U.S.: Manufacturing Is Finally Ready To Get Up Off The Floor
But with weak global growth, recovery won't be quick
by
Now that the finance heads of the Group of Seven industrialized nations have pledged to promote "more balanced growth" in the world economy, U.S. manufacturers are undoubtedly hoping they will honor that commitment sooner rather than later. Despite booming demand at home, U.S. factories have been hampered for nearly two years by global weakness precipitated by the Asian crisis, reflected in sagging exports and ever-growing import competition.
The good news is that the worst is over for the manufacturing sector, but don't expect a rapid recovery. The world outside the U.S. is stabilizing, but growth is not likely to pick up substantially--until, perhaps, next year. Commodity prices are off their lows, suggesting some relief from the weak pricing climate that hammered manufacturing profits last year. Yet, U.S. factory capacity is still more than ample in a world beset by overcapacity, suggesting that pricing power will not return quickly.
A key plus for manufacturers has been booming consumer demand, and the sixth consecutive monthly increase in consumer confidence in April suggests that households show no sign of letting up. Hot domestic spending is helping to lift factory orders, and it has reduced business inventories to very low levels, relative to sales (charts). The need for some restocking this spring and summer will buoy output. But even here, as the first-quarter surge in imports shows, a lot of U.S. demand is bypassing U.S. manufacturers.
ONE OF THE BEST SIGNS that the industrial sector is finding its legs is the improved first-quarter performance of earnings at many basic manufacturing companies. Most recently, for example, Alcoa, Cooper Tire & Rubber, and Lear have shown solid earnings growth, while Eastman Chemical, Weyerhaeuser, Caterpillar, and Whirlpool all have posted large positive earnings surprises, according to First Call Corp., a financial research company.
Based on actual reports from 344 companies in the manufacturing-oriented Standard & Poor's 500-stock index, plus the latest earnings estimates for the remaining 156 companies, First Call projects that first-quarter operating earnings per share for the S&P 500 will rise 8.7% from a year ago. Moreover, of the 344 companies that already have reported, earnings have been a hefty 4.6% above expectations.
Because the S&P 500 is heavily weighted with industrial companies, many of which do a lot of business globally, earnings of companies in the stock index were hit especially hard last year relative to other U.S. companies. As a result, the waning drags from weakness abroad and falling commodity prices, plus the nascent pickup in factory activity, should provide some support for factory earnings this year that was lacking last year.
Moreover, manufacturers are sharply cutting their labor costs at a time when their productivity growth remains strong. Through the first quarter, average hourly earnings of production workers in the factory sector grew only 1.8% from a year ago. That pace is down steeply from 3.2% during all of 1997. At the same time, manufacturing productivity is growing about 4% per year. As a result, factory unit-labor costs fell at a 2% annual rate in the second half of last year, and that rate of cost-cutting appears to have accelerated in the first quarter. Thus, any firming in prices this year will go straight to manufacturers' bottom lines.
OVERT SIGNS OF INCREASED ACTIVITY in manufacturing remain fuzzy. Regional industrial surveys taken in April by the Federal Reserve Banks of Philadelphia and Atlanta, along with a March survey by the Richmond Fed, show sharply improved factory sector activity, as did the March purchasing managers' index. The problem is that these indicators tend to be so-called "diffusion indexes" that report the breadth of improvement or deterioration in activity, not the actual volume of output, orders, and so forth. That is, the lessening drag from the Asian crisis will cause a diffusion index to rise as fewer companies report falling business, but that doesn't necessarily mean factory activity has picked up in any significant way.
Indeed, manufacturing production through March stayed in the doldrums. However, the trend in new orders looks hopeful. Orders taken by makers of durable goods rose 2% in March, and the three-month average of bookings is in a clear uptrend. Moreover, the growth rate of orders accelerated rapidly in the first quarter, to an annual rate of 14.8%, compared with the fourth quarter of last year. That was the largest quarterly increase in four years. Fourth-quarter bookings grew only at a 2.5% rate.
THE FIRMER TONE OF ORDERS partly reflects the boom in consumer spending, and there is no indication that it is about to wane. Consumers were brimming with optimism in April, according to the Conference Board, whose index of consumer confidence rose to 134.9, from 134 in March. The index is only 3.3 points from recovering all of the 19-point drop that occurred during last year's global financial market meltdown. Prior to that, confidence stood at a three-decade high.
However, consumers are also a key risk for the manufacturing recovery. That's because U.S. growth has become increasingly dependent on household spending at a time when demand in other sectors is slowing. A renewed widening in the trade deficit this year will hinder growth. Although March sales of existing homes hit a record 5.05 million pace, housing's potential for additional gains is about played out. Also, the outlook for capital spending is looking dimmer, partly because all that capacity that manufacturers have been adding in recent years has been increasingly idle. The March factory operating rate fell to a seven-year low.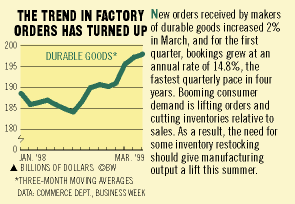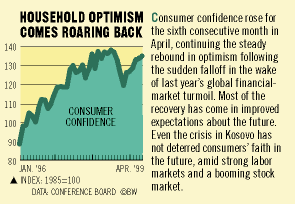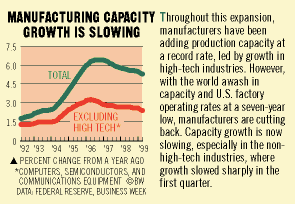 Manufacturing capacity growth is already slowing, and the pace was down sharply in the first quarter, led by a slowdown in capacity additions by non-high-tech industries (chart). Capacity growth in manufacturing excluding computers, semiconductors, and communications equipment--some 91% of factory output--grew at an annual rate of only 1.9% last quarter. Capacity growth in high tech has also slowed but is still growing at greater than 30% per year, compared with more than 40% two years ago.
The interesting offshoot here is that with capacity growth set to continue to slow this year, it will take less output growth to get operating rates rising again, compared with previous years when capacity was increasing faster. That situation could even give some manufacturers a little lift in their pricing power, especially if consumers keep spending with abandon. So for 1999, the faster the rest of the world can get its act together, the faster U.S. manufacturing can work its way back to health.
Before it's here, it's on the Bloomberg Terminal.
LEARN MORE