Though Oil Prices Rise, There's No Rush To Drill
Cautious producers are sitting back to enjoy the windfall
Peter Coy
Less than six months ago, oil prices dipped below $11 a barrel. But that already seems like a Saudi's bad dream. Oil is up more than 60% since February. On Apr. 28, signs that members of the Organization of Petroleum Exporting Countries are living up to a March pledge to cut production pushed the price of West Texas intermediate to $18.43.
In the past, such a runup would prompt a burst of new exploration and production--followed by a glut and falling prices. Investors, already anticipating more drilling, are bidding up shares of oil-field-service companies such as Schlumberger, which is up 30% since Mar. 1.
But this time oil companies are showing restraint. They cut their 1999 spending plans drastically at the end of last year, when oil prices hit a nadir. And despite the recent recovery, they're not reversing course. Salomon Smith Barney estimates that exploration and production spending will be off more than 25% in 1999 for the 175 oil companies it tracks worldwide. "Other than 1986, when it fell 30%, this could be the most severe contraction we've seen in the past 40 years," says Salomon oil analyst Geoff B. Kieburtz.
Why the reluctance to drill? First, because oil companies have been burned before by responding too quickly to price spikes. "So far, it has been just a couple of months' uptick in prices. There has to be more than that to cause us to revisit our plans," says BP Amoco spokesman David Nicholas. The company is budgeting $3.6 billion for exploration and production this year, vs. $6.3 billion in 1998.
Last year's price plummet also hurt balance sheets, leaving some companies without funds for new wells and production platforms. That's especially true of smaller players, which customarily issue stock or debt to finance projects. But after last year's bloodbath in small-cap energy stocks, "the capital markets are almost completely closed to the independents," says Robert E. Gillon, an oil analyst at John S. Herold Inc. in Stamford, Conn.
Major oil companies, meanwhile, are happy to let the windfall nourish their bottom lines. Even though the spike in prices came mostly at the end of the quarter, it was enough to push the earnings of big oil companies past analysts' pessimistic profit forecasts. At the same time, analysts say, many majors are still more focused on deals than on drilling. Among companies that could be in play are Texaco Inc., Chevron Inc., and Conoco Inc.
INVENTORIES DOWN. Higher prices are also a relief for members of OPEC. The spring spike in oil was spawned largely by a March agreement between OPEC and other producers, such as Russia and Mexico, to cut output. "This is the strongest OPEC agreement since the 1970s," says Philip J. Flynn, energy analyst with Chicago-based Alaron Trading. "The producers have been through so much pain with low prices, they were forced to cooperate." Prices got another lift from recent projections of a pickup in world economic growth, and factors such as a Venezuelan pipeline explosion and the NATO bombing of Yugoslavia, which is sucking up jet fuel.
Although there is a temptation for producing nations to cheat, so far there is no evidence they have. Venezuela, notorious for violating quotas, is actually producing below OPEC-set targets. And the American Petroleum Institute recently announced that U.S. oil inventories fell for the week ending Apr. 23, after oil imports dipped 17%.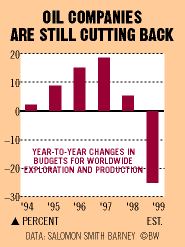 Still, there's no sign of new drilling. The number of rigs in operation in the U.S. dropped to 488 in the week ended Apr. 23, down 25% from last December, to the lowest level since Baker Hughes Inc. began keeping records in 1944. International rig counts are down, but less steeply.
If the higher prices last, of course, drilling is sure to resume. For now, though, Big Oil is taking a long view. "When you drill a well, you realize benefits from it years later," notes Mobil Corp. spokesman Bill Cummings. The oil has been underground for millions of years. So what if it stays there a few more?