These Soldiers Come To Heal Wounds
With the lordly Sierra Madre mountains rising behind him, Gunnery Sergeant Rodney Richards hoists cinder blocks under a punishing Guatemalan sun. Block by block, he and a dozen other U.S. Marine reservists from Illinois are painstakingly building a three-room, 170-square-meter schoolhouse for Lagunas, an impoverished farming village. Next door is the school it will replace: a small, dimly lit structure with broken windows and a rusted tin roof. Excited townspeople gather around, watching the new school's walls rise. "It's nice how they smile at us," says Richards, a software engineer in Peoria for Caterpillar Inc. He pauses to chug water from his canteen. "You can always do with a little appreciation."
Richards is part of a 300-troop U.S. military task force, mainly reservists, working to build five new schools and to provide medical care for the Mayan peasants and veterinary treatment for farm animals in Lagunas and other hamlets throughout San Marcos Province. The conflict flaring in the Balkans may yet involve these part-time soldiers, but for now their mission is peaceful. Since Guatemala's brutal 36-year civil war ended in 1996, the U.S. has launched similar projects.
REBEL COUNTRY. That's politically important in light of the training the U.S. provided the right-wing regime's army, whose bloodthirstiness during the hostilities shocked the world. According to a recent U.N.-sponsored investigation, the Guatemalan military was to blame for 90% of the 29,000 people murdered or missing in the war. The brunt of these human-rights violations was borne by Mayan peasants, who make up 60% of the country's population. Perennially ignored by the government for new schools and medical care, the Mayans often sided with the rebels.
In San Marcos and other heavily Mayan provinces, the actual fighting may be over, yet much evidence of the conflict remains. Bullet holes still pockmark adobe walls, and ruins of burnt-out villages dot the countryside. Occasionally, mass graves are excavated. In San Francisco de Nenton, north of Lagunas, the skeletal remains of almost 400 villagers were unearthed from a hillside in February, the gruesome aftermath of a 1982 massacre of locals by government soldiers. With the peace accord, a democratically elected government has come to power, and it's trying to make amends--with help from the Americans.
From the peasants' grins and waves at American soldiers, you wouldn't guess the U.S. helped train the murderers. Says Sister Anna Marie Reka, a U.S. Catholic nun who has worked here seven years: "The people here don't make that connection. They see our country as a wealthy source of gifts."
Those bearing the gifts--hordes of U.S. reservists, including construction crews, engineers, doctors, and assorted support types such as truck drivers and military police--are camped outside San Marcos' provincial capital from February through mid-May, on their $800,000 humanitarian mission.
Since the cold war's end, American soldiers have gotten increasingly involved in these "civic action" projects. The American military was a major player in the rebuilding of Bosnia, restoring war-decimated roads, buildings, and sewers. Because the U.S. active-duty Army has been cut 40% from the mid-1980s, Washington has called on reservists to take up the slack for these jobs. That's why the San Marcos operation is mostly staffed by part-timers, rotating through the tent-city base camp on their two-week annual training tours. If there's a lengthy ground war in Kosovo, though, odds are that future civic projects like San Marcos' would be curtailed.
In the 1990-91 Persian Gulf War where many of the San Marcos reservists served, their jobs weren't strictly humanitarian. As a Marine engineer, reservist Sergeant Richards cleared Iraqi minefields, using plastic explosives, so U.S. troops could pass. "We might have to do that again," he says grimly. Not surprisingly, he finds the peacetime Central American mission more rewarding because the Mayans are so grateful. In Saudi Arabia, suspicion toward America was rife, despite the fact that the troops were there to save them from Saddam Hussein. "In the gulf," says Richards, "we had to keep away from the local people."
DUST BOWL. One similarity to the Mideast is that the San Marcos environment doesn't make for pleasant duty. Flown into Guatemala City on cramped transport planes, the reservists must endure a seven-hour convoy over narrow, winding mountain roads bordered by sheer drops into craggy gorges. The base camp is 2,600 meters above sea level, and some job sites are at 3,350 meters. At those elevations, the thin air makes for shortness of breath and gives headaches to many new arrivals. It takes a few days to get acclimated.
Another reason San Marcos is a harsh place is the ubiquitous dust. It comes from powdery soil, filled with ash from nearby Tajumulco and Tacana volcanos. Each footfall, even on grass, produces a dust plume. Look at a shaft of sunlight through a tent flap and you see a swirling universe of particles that end up in your lungs. Most troops develop chronic coughs. Keeping clean is a losing battle: A grimy film settles over boots, uniforms, and skin. "You get dirt under your nails automatically, without doing manual labor," says Major Gloria Massey, a nurse from Nyack, N.Y.
Construction work, never easy, becomes an ordeal in San Marcos. Traversing narrow village streets and twisting mountain roads is treacherous with heavy equipment, such as a six-ton road grader used to level ground for foundation laying. The soldiers can't wet the soil to hold down dust, as they do at home, because the water transforms the volcanic powder into a slippery sludge that doesn't let vehicles get tire traction.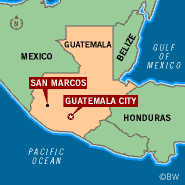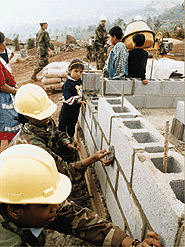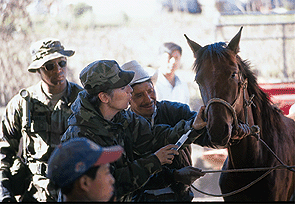 Living in San Marcos year-round, the residents aren't a healthy bunch. The dust causes all manner of respiratory ailments. Their worst medical woes: parasites from the lousy water fetched out of streams, and skin conditions such as pellagra, caused by vitamin deficiencies. Tuberculosis and venereal diseases also are common. Nor is dental hygiene widespread; Army dentists average 40 tooth extractions per day. And army veterinarians treat horses, goats, and pigs for worms. Hispanic-American soldiers like Specialist Perla Fuentes, an accounting assistant in a New York investment firm, do the translating for U.S. medical folks. Says Fuentes: "They have no money, of course, and tell us: `God will repay you."'
Hassles and hardships aside, the reservists are glad to be helping out in San Marcos. "This may not be what you think of as a usual military mission," says Richards, "but it's a good one because we get to help people." Following a vicious war in which the U.S. had a hand, that's a fitting sentiment.
Before it's here, it's on the Bloomberg Terminal.
LEARN MORE