The Stones Are Crying In Carrara...But Its Artists Keep On Carving
The steep ridges of Tuscany's Apuane Alps rise from the sea, flanking the small city of Carrara. All year round they glow in brilliant whiteness--not because they're covered with snow, but because the rock has been ripped open, revealing the world's largest concentration of pure marble. "Growing up in Carrara, you can't help but be fascinated with the majesty of the mountains," says 29-year-old architect Gigi Baini, who is finishing his university thesis on the design uses of Carrara marble. His father buys and sells marble, and his grandfather sold his mine when the vein he was excavating ran dry. "A few months after my grandfather sold, someone else discovered a new vein," says Baini. "In Carrara, becoming rich or poor is easy."
Becoming rich, however, isn't as easy as it once was. The mountains still contain a seemingly unlimited quantity of the creamy stone, but stiff international competition, fallout from Asia's crisis, and changing tastes have miners worried. Countries such as India, China, and Turkey, which mine lower-quality stone with lower costs, are putting pressure on the world's market leader. Carrara's 228 marble companies saw sales drop 7.6% in 1998 from the year before, to $658 million, and this year may be as bleak.
The mines currently yield 1.5 million tons per year. But huge blocks that look like giant sugar cubes sit immobile near Carrara's seaport and railway lines. Once, the whole gamut of production took place in Carrara, from mining to carving to delivery. Now, rival countries can offer state-of-the-art carving technology for less. "Carrara is in crisis because our whole structure has collapsed," says Aldo Canali, director of Euro Marble, a local mining company.
The crisis can't be blamed solely on competitors and Asia's downturn. Last year the city's biggest miner and employer, IMEG, accounting for 60% of the area's marble concessions, went belly-up. A management shakeup and a suspicious fire dealt the final blow. But when IMEG went under, it dragged much of the industry with it. Official estimates put local unemployment at 14%, but Carrara's Chamber of Commerce says the real figure could be 17%. "There's no doubt our numbers are the highest in Northern Italy," says Giulio Ravenna of the Chamber's research unit.
Other local companies tried to put together a consortium to save the marble giant but couldn't agree on how to do it, and the effort failed. Now locals hope to find a buyer for IMEG. With an opening price of $47 million, at least three buyers, including a French company, may be interested.
BIG JOBS. Carrara exports most of its marble to Asia and the U.S.--the lobby of New York's World Trade Center, for example, is lined with it. Although the U.S. has remained a healthy market, exports to the Far East fell 37% last year. That, combined with a depressed home market, is forcing exporters to look elsewhere. In 1996, the industry got an order for construction of one of the world's largest mosques, in Abu Dhabi. But the project has not gotten off the ground. "There are no more big jobs on the horizon like that," says Ravenna. "Carrara is still waiting for its white knight."
Despite the crisis in the mines, it's business as usual for local artists. Legend says Michelangelo narrowly escaped death twice dodging runaway chunks of marble on Monte Altissimo, searching for the perfect specimen. Today the thriving artistic community of nearby Pietrasanta continues to transform blocks of stone into everything from chess boards to reproductions of Michelangelo's David.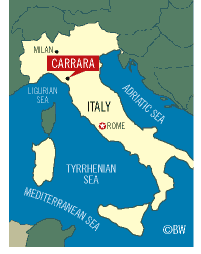 Wearing beat-up denims and traditional hats that look like boats made from folded newspapers, artists at Studio Sem in Pietrasanta huddle around a panel two meters square chiseling in abstracted human figures. The panel will soon hang over the grand staircase of Royal Caribbean Cruise Line's latest ship. American Keara McMartin, who studied sculpture in the U.S. but has lived in Italy for 19 years, says her studio has seen no decrease in commissions. Better still, she's now more likely to get discounts, albeit small ones, from local suppliers.
Studio Sem works with artists around the world and has sculpted busts of state leaders and a reproduction of the Pieta. Commissions range from $1,000 to $160,000. "Crisis? What crisis?" says McMartin. "We're still carving." But miners wonder how long they'll be digging.
Before it's here, it's on the Bloomberg Terminal.
LEARN MORE