Smar Tone: Dial Up, Log On, Cash In
Can the Web lift SmarTone above its cell-phone rivals?
by
In Hong Kong, it seems, every adult is packing a mobile phone. But for Hubert Ng, there's always room for more. Since Ng took over as chief executive at SmarTone Telecommunications Holdings Ltd. three years ago, the cellular operator has introduced all manner of services to make sure people on the go are also on the line. SmarTone provides subscribers with everything from horse-racing results to stock quotations and flight arrivals. Now, the 50-year-old Ng is breaking into E-commerce. He's upgrading SmarTone's technology and forging new alliances so that customers can use mobile phones to pay bills and make purchases on the Web. "Just imagine the benefits of access via wireless," says Ng. "We really see unlimited potential."
So do Ng's new partners. On Apr. 7, British Telecommunications PLC paid $390 million for 20% of SmarTone, which is controlled by Hong Kong property giant Sun Hung Kai. A few days later, Yahoo! Inc. agreed to make its Web offerings available via SmarTone's new Internet service provider (ISP). Capitalizing on these links could prove a challenge for Ng. But he's already looking for acquisitions to cash in on the BT and Yahoo! connections. That has helped make SmarTone a favorite among investors searching for Chinese Internet plays. Cybermania on the Hong Kong market has propelled SmarTone's stock up 30% over the past nine weeks, to close on Apr. 28 at $3.54 (chart).
SmarTone, No. 3 in the market behind Hong Kong Telecommunications Ltd. and Hutchison Telecommunications, sorely needs a bit of buzz. Mobile phones may be ubiquitous in Hong Kong, but the cellular business is anything but hot. Competition among the territory's six operators, along with swift deregulation, has cut SmarTone's cellular-phone rates by an average of 20% for most customers since last year. Revenues dropped 18% in the six months ended Dec. 31, to $225 million. Ng has cut costs aggressively. But operating profits were still off 10.7%, to $67 million.
ADD-ONS. Ng's answer is to transform SmarTone into an Internet power. Since launching its ISP in late April, SmarTone offers Internet access as an inexpensive add-on service to keep its half-million customers from jumping ship. But Ng's plans are loftier. By next year, SmarTone's cellular network will transmit data at 100,000 bits per second--10 times the current rate and comparable to that offered by Hong Kong Telecom, the leading ISP. At that speed, customers will be able to surf the Net quickly via notebook PCs or mobile phones with enlarged screens.
Yahoo! is a natural partner. Last year, the Internet gateway company launched Chinese-language versions of its Web service. Now, it hopes that its icon on SmarTone's home page will bring more people to its sites. "We need eyeballs," explains Savio Chow, Asia managing director for Yahoo! "With SmarTone's customer base, the possibility of connecting them to our site is fairly high."
It's unclear what SmarTone gets from the deal. Ng expects to expand the Yahoo! relationship. As it is, though, getting to Yahoo! does not mean stopping at SmarTone's site. And while it's Yahoo!'s first co-branding arrangement in Asia, Chow says Yahoo! is open to similar links anywhere in the region--including Hong Kong. "Yahoo! has an excellent piece of real estate on the Web," says Joseph Locke, telecom analyst for ABN Amro Asia in Hong Kong. "But SmarTone isn't getting a piece of it."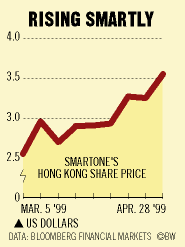 The BT tie-up has more obvious benefits. The deal brings SmarTone into a regional alliance that BT has been building throughout the Asian economic crisis. It currently has minority stakes in telecom operators in South Korea, Malaysia, and Singapore. On Apr. 24, it announced it was joining AT&T, its global partner, to buy a 30% slice of Japan Telecom Co. for $1.9 billion.
With BT's money and no bank debt, SmarTone can afford to go shopping, too. Ng has a cash pile of $500 million, and he's looking at acquisitions in Taiwan as well as Hong Kong. But the real prize is China. Beijing's bid to join the World Trade Organization is key to Ng's expansion plans, since it will finally allow foreign cellular operators into a long-closed market. "We know China will open sooner, not later," he says. "We can react very quickly." Ng seems set to prove that as he remakes SmarTone.
Before it's here, it's on the Bloomberg Terminal.
LEARN MORE