Peru: Will Good Behavior Pay Off?
Jane Holligan De Diaz-Limaco
During President Alberto Fujimori's nine years in office, Peru has taken pains to show it is now one of the well-behaved members in the Latin American class. It just completed a three-year InternationaL Monetary Fund program with flying colors, and it is expected to sign a second three-year IMF deal in May that should help to bolster investor confidence.
This year, Peru is one of only three economies in the region expected to grow, along with Mexico and Chile. Growth had slumped to 0.7% in 1998, from 7.2% in 1997, but the government predicts 3% growth in 1999. Private analysts see 2% to 3%. Agriculture and mining, hit hard by the collapse in commodity prices, are recovering, as is fishing, which was hurt by El Nino. But manufacturing remains sickly, reflecting frail domestic spending.
Peru's first concern will be attracting foreign funds to cover the gaping current-account deficit, which totaled 6% of GDP in 1998. A 15% depreciation in the sol last year will help narrow the shortfall. Now cheaper and more competitive, exports are rising, and--with demand stymied by high interest rates--imports have slumped.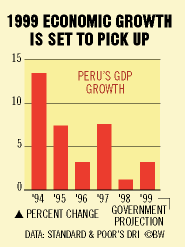 The IMF accord will pave the way to draw on up to $1.3 billion in credit lines, and it lays down strict terms for the fiscal accounts. The plan allows a slightly smaller primary surplus, which will help growth, but will not allow the kind of splurge Fujimori planned before the 1994 elections, when the economy boomed 13%.
So far, the government has maintained its fiscal discipline, but Fujimori is backpedaling on needed privatization projects while concentrating on a populist campaign ahead of the 2000 elections. Planned privatizations of state-run companies were supposed to bring in $1.2 billion to $1.4 billion this year, but private analysts now expect only about $200 million. Without those revenues to support spending, financing the current-account deficit will be more difficult, and investors' interest in Peru could cool.