Japanese Labor Asks For Little And Gets It
In tough times, Japan's unions are unusually subdued
Robert Neff
It has been a strange spring in Japan--blustery, gray, cold, and wet. The poor weather has dampened the traditional yozakura, or evening drinking and singing sessions, under the cherry blossoms.
Something else is missing this April: the seasonal ritual of shunto, or the Spring Labor Offensive. That's when Japanese unions traditionally stage noisy demonstrations to display their strength and demand hefty raises--which they often got. This year, in a nation mired in recession, with rising unemployment (chart), record-low wage hikes, and the spread of restructuring, you might think shunto would be more militant and noisier than ever. But this isn't France or Germany, where workers take to the streets for higher wages even as companies plunge into losses. Nor is it South Korea, whose militant unions are fighting corporate downsizing and restructuring tooth and nail.
In one of the roughest periods for Japanese workers in recent times, this year's shunto has been the calmest and least noticed in memory. Workers have been settling for wage hikes of just 0.25%, or an average of $6.70 per month, in the past few weeks. And that mute acceptance speaks volumes about the unusual connections between labor and capital in Japan.
Japan's recession is unlike any prolonged Western-style downturn. Despite the bleak statistics, Japan has no beggars, a low and almost stable crime rate, and few boarded-up buildings. People still dress well and keep their cars in good repair. Planes and trains remain full. Consumer spending continues. One reason for this stability is that corporations have largely refrained from the massive layoffs that shook America in the 1980s. So unions have little reason yet to protest huge job cuts that threaten their livelihoods.
But there are deeper causes still for the unions' silence. Japan's so-called enterprise unions, organized company by company instead of across industry lines, have much more intimate contact with management than do unions in the West. Information flows freely, and negotiations often are conducted over drinks, not in sterile offices. Many a union chief winds up as president of his company, such as Jiro Nemoto, chairman of Nippon Yusen K.K., Japan's largest shipping company. Workers are much more attuned to national interests and to those of employers than their counterparts in Europe and the U.S.
Most important, the Japanese operate a "same boat" principle. They look out for one another in times of crisis. "Union members are thinking in terms of the whole nation," says Toshio Mori, director of the policy coordination division at the Japanese Trade Union Confederation. "They think if their companies get better, the whole country will."
SAVING FACE. The confederation is Japan's largest labor group, representing 8 million of Japan's 68 million workers. It dates to the mid-1950s, when Japan's then-fractious unions mostly coalesced under its umbrella. From the get-go, shunto became its trademark: orchestrated, high-profile annual wage negotiations with attendant demonstrations, symbolic strikes, and massive media coverage. These days, though, labor bosses talk more like managers. "The biggest challenge for companies is to contain labor costs," says Mori. "To a certain extent, we understand the severity of management's crisis."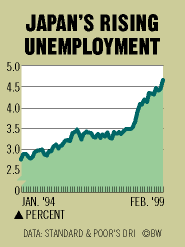 Even this year's minute pay hikes are a face-saving formula to disguise sizable cuts in take-home pay. At many companies, says an American official who watches Japanese labor issues, annual bonuses have been cut sharply. For instance, Japan's second-largest auto maker, Nissan Motor Co., granted a token raise but reduced bonuses, so that a typical 35-year-old worker's annual pay has dropped from $46,600 to $44,130. "Nissan just lowered its wage bill by 5.3% without laying anybody off," says the U.S. official. And that's even before cuts in overtime.
Naturally, spokesmen for the bosses are delighted. "In these severe conditions, unions recognize the situation well," says Hiroyasu Kawamoto, manager of the labor-relations and wages division at the Japan Federation of Employers' Associations. "Strikes don't bring results. They would simply weaken the company and perhaps lead to its collapse." The lack of militancy may reflect desperation, but Japan's economic problems could bode far worse if the unions behaved otherwise.