Fair Weather Ahead At Fairfield?
By
Remember the time-share industry? It is now known as vacation ownership interests (VOI), and it has polished up its image since Disney, Marriott, and Hyatt got into the business in the early 1990s. The big outfits see VOI as a growth industry, says Dennis McAlpine, an analyst at New York investment firm Ryan Beck. He thinks VOI still has undervalued properties--until they get swallowed up by the biggies.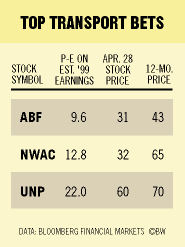 McAlpine's top pick is Fairfield Communities (FFD), which has 28 resorts in most vacation markets, with more than 240,000 different owners. The stock is trading at seven times next year's estimated earnings, although the company's earnings growth is expected to exceed 20%. He thinks the stock should trade at a p-e equal to its growth rate, which would justify a target price for the stock in the high 20s.
VOI companies have three main revenue streams: sales generated from the initial VOI sale, interest income from financing the purchase, and revenues from resort management fees. Fairfield has a loan portfolio, notes McAlpine, of nearly $350 million.
It is surprising that no one has yet made a run for Fairfield, says McAlpine, given that its stock sells at a deep discount to the value of its assets. He says Fairfield is an attractive buyout candidate.