U.S.: Take A Close Look At Those Gdp Numbers
Lopsided U.S. demand and skewed world growth raise some questions
By
It's GDP time again. On Apr. 30, the Commerce Dept. will issue its first-quarter data on the economy's gross domestic product. Right now, the median forecast among economists for real GDP growth is close to a 4% annual rate, on the heels of the fourth quarter's 6% gallop. But the cross-currents from the economy's individual sectors were unusually turbulent last quarter, and the report will require more than a cursory analysis.
Based on available monthly data, consumer spending stands a good chance of posting the largest quarterly increase of this eight-year expansion, and homebuilding should show another double-digit advance. However, the drags on growth were large, especially given the unexpectedly sharp widening of the trade deficit. Also, business investment appears to have been unusually weak, and equipment outlays may well post an outright decline. Inventory growth appears to have slowed as well. Add it all up, and that 4% expectation may well be on the high side.
If so, blame it on the skewed nature of world economic growth, combined with an increasingly lopsided U.S. expansion. Given the powerful mix of jobs, low inflation, and stock market gains, households are setting spending records almost every quarter and accounting for a disproportionate share of the economy's growth. But at the same time, amid a strong dollar and abundant global capacity, that spending surge is bypassing U.S. manufacturers and heading straight for imports. Meanwhile, weak pricing power is undercutting profits and causing many businesses to take a second look at their 1999 capital budgets.
THE EYE-POPPING 6% TO 7% GROWTH rate now expected for first-quarter consumer spending has been well documented by the monthly data. But the latest twist is the quarter's dramatically wider trade deficit (chart). The trade gap in February ballooned to $19.4 billion, up from $16.8 billion in January, which had increased from $14.1 billion in December. Depending on Commerce's estimate for unavailable March data, the trade deficit, by itself, could end up subtracting two to three percentage points from overall GDP growth. More important, the lack of economic growth elsewhere around the globe suggests that the U.S. trade gap will get worse before it turns around.
The latest trade data reflect a surge in imports fueled by U.S. domestic spending and the lack of export growth amid soft foreign demand. Imports in February jumped 2.3% after rising 2.1% in January, the biggest two-month advance in four years. Consumer goods, excluding autos and foods, accounted for about half of the February import increase, and foreign-made autos contributed a third. Capital goods imports also rose in both January and February, but their growth has slowed during the past year, likely reflecting the slowdown in U.S. capital spending.
Exports, which fell 0.6% in February, are not as weak as the data suggest, because a drop in always-volatile aircraft shipments more than accounted for the month's decline. Still, exports remain well below their level of a year ago and show little sign of breaking out of the doldrums.
This double hit from soft exports and intensified import competition explains why the manufacturing sector continues to struggle. Despite encouraging signs from several industry surveys, industrial production edged up only 0.1% in March, mainly reflecting an increase in utility output. Production in manufacturing alone did not rise At all, and first-quarter output grew at an annual rate of only 1.2%. Excluding 1998's third quarter, when the strike at General Motors Corp. affected output, the first-quarter factory gain was the weakest quarterly growth in nearly four years. Moreover, capacity utilization in manufacturing in March fell to 79.3%, the lowest since early 1992, when the economy was struggling to recover from the last recession.
THE GDP REPORT IS LIKELY to suggest that, despite rambunctious consumers, one key area of demand may be starting to falter: capital spending (chart). With U.S. capacity so abundant, and with corporate cash flow not as plentiful as it was back when profits were growing at double-digit rates, one possible surprise in the GDP data could be an outright decline in business investment in new equipment, which has been a key contributor to economic growth during this expansion.
Through February, both shipments of capital goods and production of business equipment are below their averages for the previous quarter, the first time that has happened since the last cyclical downturn in capital spending, which was during the 1990-91 recession. The slowdown is centered more in low-tech machinery than in high-tech hardware.
Meanwhile, business outlays for new construction appear to have risen last quarter, not so much because companies were rushing to build new plants and warehouses, but because the mild winter allowed more construction activity than would have normally occurred. Meanwhile, contract values for new business construction have fallen sharply for the second quarter in a row, based on data from the F.W. Dodge Div. of The McGraw-Hill Companies. The pattern suggests that once current projects are completed, few new ones are on tap for 1999.
THE SAME IS TRUE FOR HOUSING. Homebuilding scored another strong gain last quarter, with some help from the weather but with a boost from solid consumer fundamentals as well. However, last quarter may well have been housing's only big contribution to GDP growth for the year.
That's because the direction of most monthly housing indicators through the quarter was down. Housing starts fell in both February and March, and sales of new homes peaked in November of last year. In April, the National Association of Home Builders housing market index held at the March reading of 70, which was down for the third consecutive month (chart).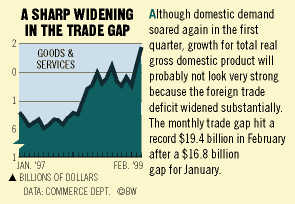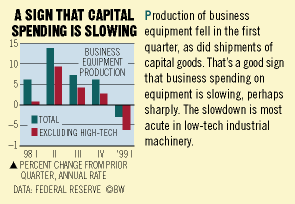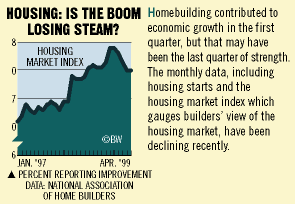 Housing activity remains at a fairly high level, and it should stay there as long as mortgage rates remain low and the stock market holds up. However, further growth above the current near-record levels looks unlikely in 1999, especially given that housing growth during the past year has been outstripping the pace that one would expect based on demographic trends.
The point here that is central to the outlook is this: No matter what the headline number for first-quarter GDP turns out to be, domestic demand is not as broadly robust as it was a year ago. As long as consumers are willing and able to take up the slack, growth will continue to barrel ahead. But if they stumble at a time when businesses are cutting back, manufacturing is weak, and foreign economies are still struggling, then the U.S. economy's pace could fall off in a hurry.
Before it's here, it's on the Bloomberg Terminal.
LEARN MORE