This Utility Needs A Jolt
by
Shares of TNP Enterprises (TNP), the parent of Texas-New Mexico Power Co., have headed downhill since they hit 38 in late December. The stock has slid to 28 because of disappointing earnings, so analysts aren't so hot on it. But some big investors remain bullish.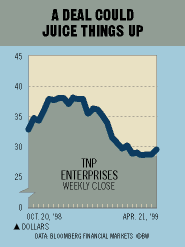 Money manager Doris Kelly-Watkins of Evergreen Asset Management, a unit of First Union Bank, likes the underlying fundamentals, such as its "fine management" and the "strong growth territory" that the utility serves. And, she says, TNP is an attractive takeover candidate. (Evergreen owns nearly 5% of the stock.) Kelly-Watkins says she isn't aware of any imminent deal, but adds: "I wouldn't be surprised if one surfaced." She notes that TNP "lacks the critical mass to compete in the current competitive environment." She may be on the right track: One industry pro insists that TNP is in talks with suitors, and he expects a deal shortly.
Mark Luftig of W.H. Reaves, a New York investment firm that invests mainly in utilities, is also high on TNP: He expects earnings to grow nicely and also thinks TNP is an attractive target. Any large utility in Texas might well acquire TNP, which he values at 35 in a buyout.
Chairman and CEO Kevern Joyce says TNP is "well on track on its growth plan," but wouldn't comment on speculation about buyout talks.
Analyst Javier Rivela-Rodriguez of Redwood Securities Group expects TNP will earn $2.68 a share in 1999 and $3.02 in 2000, up from 1998's $2.64.
Before it's here, it's on the Bloomberg Terminal.
LEARN MORE