Tds: Waiting For The Phone To Ring?
By
Amid the flurry of telecom mergers, investor Mario Gabelli thinks Telephone & Data Systems (TDS) will be his next big winner. Now trading at 57, the stock has been on the rise and is near its 52-week high of 60. But Gabelli, who has a 12.6% stake, argues that TDS is still undervalued, based on its assets and strong cash flow. He puts the intrinsic, or private market, value of its assets at 102 a share. So he figures TDS will attract a buyer, either for some of its assets or for the entire company.
Some analysts say the Carlson family, led by TDS Chairman Leroy Carlson Sr., which controls 53% of the voting stock, seems to have had a change of heart--in favor of entertaining bids. They think Gabelli's persistence in egging management on to enhance shareholder value is bearing fruit. But even without a deal, TDS could double in a year, says Gabelli. In the current environment, where the big players are paying premiums for telecom assets, "TDS is in a win-win situation" on its fundamentals and is an inexpensive asset play, he says.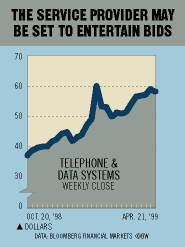 Dmitry Khaykin, an analyst at Gabelli & Co., thinks TDS could generate more than $1.1 billion in cumulative aftertax cash flow over the next five years. Serving about 3 million customers in 35 states, TDS provides local and long-distance phone service plus cellular and personal-communications services. TDS owns 81% of U.S. Cellular, which provides cell-phone service to 2.2 million users, and 82.3% of Aerial Communications, a paging outfit.
TDS plans to spin off its stake in Aerial to TDS shareholders. But Gabelli thinks Aerial could end up being sold outright. Aerial, trading at 7, could fetch 12 a share in a buyout, he says. U.S. Cellular, now at 45, is worth 52 per TDS share. While TDS spokesman David Epstein won't comment on conjecture that TDS may be a buyout target, he says, "We regard Gabelli as an extremely astute analyst."