Greek Tragedy In The Rag Trade
Larry Light
THE RISE AND FALL OF THE HOUSE OF BARNEYS
A Family Tale of Chutzpah, Glory, and Greed
By Joshua Levine
Morrow 256pp $25
Barneys once commanded the peak of the retail fashion world. Through pluck and stamina, the founding Pressman family built a chain where the hottest designers scrambled to sell. By the 1980s, Barneys Inc. had become a sartorial trend-setter, introducing Italians such as Giorgio Armani to America and making black the ultimate fashion color. Barneys' new main store, opened in 1993 on New York's Madison Avenue, dazzled the public with a mosaic of Carrara marble and walls lined with goatskin. But beneath this glitter, a rot was setting in. The business came a cropper in 1996 with a Chapter 11 filing that cost the Pressmans control of their hard-won empire.
The Rise and Fall of the House of Barneys offers a tale with echoes of Greek tragedy, ably delivered by Joshua Levine, a Forbes senior editor. In his impressively detailed narrative, Levine shows how the chutzpah that fueled the family's ascent grew into fatal arrogance. Barneys was done in by a combination of wild overspending, snobbish disregard for customers, and greedy family raids on the corporate till. Today, creditors own the company. Its 20 stores nationwide still sell apparel of the highest style, but do so without the gaudy excesses that marked the latter stages of the Pressmans' reign. As for the Pressman family, they're gone from the scene. Neither the Pressmans nor the company would comment on Levine's book.
Sheer gall enabled Barney Pressman, an elfin pants-presser from the Lower East Side slums, to found his menswear store in 1923. He hocked his wife's engagement ring to pay for the lease and fixtures. And although established clothing makers wouldn't sell to him, he managed to stock his place with an enormous number of quality suits, which he sold at cut-rate prices. One way he did this, Levine relates, was to scour the obituaries and buy the wardrobes of well-fixed departeds from grieving widows. In time, Barneys grew into the world's largest men's store.
Under Barney's only son, Fred, the store grew in the 1960s into a fashion powerhouse and went upscale. The new boss disdained his father's folksy style and bargain-price strategy. Fred had such a yen for quality that he would spend an hour inspecting the craftsmanship of a glove. Envious of Brooks Brothers, he moved Barneys toward English tailoring in the 1960s and then went heavily for Italian design in the 1970s. Meanwhile, Levine hilariously recounts, Fred's own attire was frayed and ill-fitting. Indeed, there were other, more important things that Fred should have paid attention to.
Levine paints a fascinating portrait of the intergenerational dynamics of the Pressman clan. His main point is that Fred should have kept better watch on his wayward offspring. Unlike succession at many other family businesses, the Pressman fathers gladly handed over leadership to the youngsters. Strolling through the store, the voluble patriarch would walk five paces behind Fred and criticize his son's decisions, but never overrule them. Later, Fred's oldest son, Gene, began the expansion that led to the company's undoing; Fred, despite severe doubts, went along.
In 1989 the bon vivant Gene and his more retiring younger brother, Bob, enlisted a Japanese partner, retailer Isetan Co., and blew millions of Isetan's funds on a push to build a nationwide presence. But the Pressmans' snob appeal didn't work in Middle America. Worse, they spent like drunken tailors: The Madison Avenue store was aesthetically magnificent but, because of out-of-control construction costs, economically stupid. Trusting to their own creative genius to keep success rolling, the third Pressman generation never bothered to computerize and track where all the bucks were going.
In the book, Gene and Bob come off as spoiled rich boys whose disregard for sound business practices and common decency made the disaster inevitable. Gene was a regular at Studio 54 in its heyday, and--like the celebrated disco's picky doormen, who wouldn't admit anyone who wasn't cool--Gene turned Barneys into a place too hip for most customers. In the late 1970s, he moved Barneys into women's wear, making a big impact on the fashion world yet never turning a profit.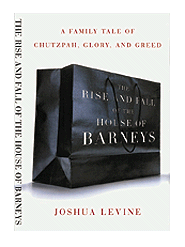 Bob Pressman loathed dealing with customers, a real minus for a retail executive, and focused on company finances. That, however, amounted to juggling the books to hold off the impending collapse. And Levine contends that, just before the bankruptcy filing, Bob engineered a plan to siphon $5 million out of the company into the family's pockets through, among other ploys, giving himself and Gene huge salary increases. Loyal employees were treated like scum, with many unhappy departures, and vendors were habitually stiffed.
As problems mounted, "the boys," as the brothers were called, thought they could bluster their way through. After all, they embodied the Barneys magic, and no one would want to tamper with that. Embittered partner Isetan and the creditors disagreed. Old Barney died in 1991, at 96, before his beloved store ran into trouble. Fred wasn't as fortunate: He died in 1996, at 73, a few months after the bankruptcy filing. In the end, as Levine deftly recounts, inside the celebrated black Barneys shopping bag, nothing remained.
Before it's here, it's on the Bloomberg Terminal.
LEARN MORE