Bitter Medicine Ahead For Drug Companies
Cutthroat competition and expiring patents may cast a pall
Amy Barrett
Last year, it was hard to find companies with stronger vital signs than the big drugmakers. The portfolio of 10 big U.S. and British drug stocks followed by SG Cowen Securities Corp. jumped 52% vs. a 26% rise in the Standard & Poor's 500-stock index. And it's easy to see why. With record numbers of new products hitting the market--including such blockbusters as Viagra and Lipitor--drug companies have racked up double-digit sales and earnings growth for the past three years.
But investors are beginning to doubt whether drugmakers can continue to produce such robust results. So far this year, Cowen's drug-company index is down about 6% while the S&P 500 is up roughly 6%. The diagnosis? Because drugmakers are able to bring forth new products far more quickly, breakthrough drugs such as Warner-Lambert's diabetes treatment, Rezulin, face competition sooner. That leaves drugmakers less time to lock down a market and accelerates their need to spend heavily to carve out, and then defend, their franchises.
PRICE-CONTROL PANIC. At the same time, patents on many major drugs will expire soon, opening the way to cheaper generic versions. Finally, Washington is talking about extending Medicare benefits to include prescription drugs--a move drugmakers fear would lead to price controls. "The last three years have been phenomenal," says drug-industry analyst Hemant K. Shah of HKS & Co. "The next three will be much rockier."
Certainly, growth won't fall off a cliff. HSBC Securities Inc. analyst Jack Lamberton figures sales and earnings growth for the seven big U.S. drugmakers he follows will hit 6.8% and 9.4%, respectively, in 2002. But that's quite a dip from the 13.9% sales growth and 18% net income gain expected this year.
One of the biggest problems is the shorter development cycles for new products. It used to take several years for rivals to trot out a me-too nostrum. In recent years that window has been closing. On Apr. 20, for example, a Food & Drug Administration panel recommended approval of Merck & Co.'s painkiller Vioxx, just three months after Monsanto Co. launched Celebrex, the first so-called COX-2 drug and a likely blockbuster.
The FDA panel also recommended that Merck be able to recommend Vioxx for acute pain--something not on Celebrex' label. And if recent reports of deaths among patients taking Celebrex are indications of unknown problems with the drug, that gives an even bigger opening to Merck. Monsanto says its review of the reports shows "no direct causality" between Celebrex and the deaths. Regardless, "the bite of competition is more ferocious now," concedes Warner-Lambert Co. President Lodewijk J.R. de Vink.
On Apr. 19, Eli Lilly & Co. said sales of its onetime blockbuster, the antidepressant Prozac, were off 4% in the first quarter, owing in part to inroads made by products such as Celexa from Forest Laboratories Inc.
So like other drugmakers facing new threats, Lilly is upping its marketing firepower, hiring an additional 100 sales representatives. They're part of a growing and costly army: The top 40 drugmakers now deploy nearly 59,000 reps in the U.S., up from just over 34,000 in 1994. Analysts now warn that the growing overhead may start hurting margins.
Pricing is getting tougher in some categories. Celexa, at about $60 per month, costs about 20% less than Prozac. "There's much more price competition than there had been," says Merck Chairman Raymond V. Gilmartin.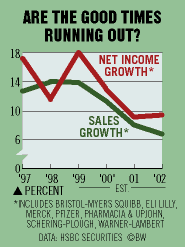 Meanwhile, such profit-spinners as AstraZeneca PLC's ulcer drug Prilosec, Lilly's Prozac, and Merck's heart drug Vasotec will go off patent in the next several years. Many drugmakers have legal strategies to delay competitors, but cheap generic versions will eventually hit the market. Industry pros figure that could trigger a round of consolidation involving companies such as Bristol-Myers Squibb and Schering-Plough. "There is going to be terrific short-term pressure," predicts Michael E. Hansen, vice-president at Boston Consulting Group Inc.
The wild card is Congress. Already, Democrats like Sen. Edward Kennedy (D-Mass.) and Representative Pete Stark (D-Calif.) have introduced bills to add drug benefits to Medicare, and the Administration says it will put forth its own plan this spring. So far, the threat of price controls is small. But with uncertainty in Washington and new competitive pressures, drug companies may soon be under the weather.
Before it's here, it's on the Bloomberg Terminal.
LEARN MORE