Barbarians At The Wallenbergs' Gate
The dynasty's new head is under pressure from shareholders
Stanley Reed
Apr. 14 was one of the biggest days in Marcus Wallenberg's life. The 42-year-old scion of Sweden's business dynasty was crowned chief executive of the family-controlled holding company, Investor, at the annual general meeting at a tennis arena outside Stockholm. He had been prepping for the job practically since childhood.
But a brash American spoiled the party. The day before the meeting, David E. Marcus, director of European investments for fund managers Franklin Mutual Advisers Inc. of Short Hills, N.J., indicated that the U.S. group--Investor's largest outside shareholder--was disappointed with the Wallenbergs' performance. On Swedish television, Marcus complained that Investor has tolerated poor results from too many of the companies it controls for too long. The Wallenbergs must make some tough decisions soon, he subsequently told BUSINESS WEEK. "Otherwise, the world is going to pass them by."
The Wallenbergs, long accustomed to being treated like royalty, had better get used to more such bluntness. Global stockpickers increasingly see the family-run holding company as a mutual fund, rather than the unassailable backbone of Sweden's economy. They are demanding that the Wallenbergs, as Investor's managers, deliver high returns in the form of a rising share price. Unless the stock perks up (chart), Marcus Wallenberg could be in for a rough ride. "We know that our share price has not been to everyone's satisfaction," he admits.
The family may even come under pressure to relinquish the special voting shares that allow them to call the shots at multibillion-dollar companies such as Ericsson. Already, they have begun diluting their influence by merging their big holdings and investing outside Sweden.
In any contest of wills, Franklin Mutual, which owns about 8.5% of Investor, could prove a thorny antagonist. Under Wall Street tough guy Michael Price, who sold the group to Franklin in 1996, its funds gained a reputation for buying into companies and pushing management for change. For example, Price was key in spurring the merger of struggling Chase Manhattan Bank with Chemical Bank in 1995.
Until recently, the Wallenbergs escaped censure from the hard-nosed New Jerseyans. Franklin Mutual has enjoyed annual returns in the 20% range since it first bought into Investor about four years ago. The appointment of the notoriously demanding Percy Barnevik as Investor's chairman in 1997 brought plenty of activity. Last year, Barnevik presided over the $32 billion merger of pharmaceutical giant Astra, Investor's largest holding, with Britain's Zeneca Group PLC. Earlier in 1998, Stora, its paper company, was merged with Finland's Enso.
SLUGGISH RETURNS. Investor's stock did well in the mid-1990s, but its recent deals have not impressed the equity markets. Several Wallenberg companies--including roller bearings giant SKF, appliance maker Electrolux, and the renamed Stora Enso--belong to cyclical industries that investors have spurned. In 1998, Investor's total return was -1%, compared with a gain of 13% for the Swedish stock market. So far this year its stock has been flat, while Sweden's market is up 11%. And Investor's shares are trading at a 30% discount to its $13 billion portfolio value.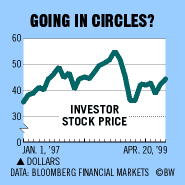 At the annual meeting, Investor's new boss pledged to cut the holding company's high administrative overhead by at least a third and to boost venture capital, leveraged buyouts, Asia holdings, and other new investments to 15% of Investor's portfolio from about 5% currently. Franklin Mutual's Marcus was impressed by the speech. But he still thinks Investor should exit some of its old-line holdings, such as SKF and Stora Enso, and perhaps truckmaker Scania.
A value shopper, Marcus has taken advantage of the recent weakness in Investor stock to add to his position. He notes that the equity markets are finally turning away from high technology and toward cyclical manufacturing stocks. He also anticipates regulatory changes in Sweden to make stock buybacks attractive. But if Barnevik and his new CEO fail to deliver results, their owners in New Jersey will grumble even louder.