Australia: Bypassing Asia's Crisis
Expectations of an Australian interest-rate cut anytime soon are dwindling amid signs that the economy is not slowing as quickly as the Reserve Bank of Australia had hoped. But extremely low inflation means that a rate cut later on is not out of the picture.
Domestic demand is being fueled by an extremely healthy household sector. Consumer sentiment rose again in April and has been increasing since late 1998. Low inflation is lifting household buying power. And job growth, while slower now than in 1998, is still strong enough to reduce unemployment. The jobless rate in March was 7.4%, down from 8.2% a year ago (chart). Also, a surging stock market is boosting household wealth. With finances on solid footing, consumers are spending. Retail sales and housing look robust so far in the first quarter. The monthly data suggest that real gross domestic product may not yet be slowing to the 4.5% rate desired by the RBA. In 1998, real GDP grew 4.9%--the fastest pace in four years.
Despite strong domestic demand, the RBA could trim rates at least once this year because inflation is so tame. Consumer prices rose just 1.6% in the year ended in the fourth quarter, well below the central bank's target of 2% to 3%. And inflation in the first quarter, to be reported on Apr. 28, likely remained near that low rate.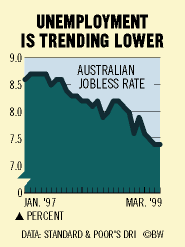 Australia's major weak spot is exports. Falling prices, for commodities such as gold, sugar, and metals, are cutting the revenues of exporters. Australia is also getting hit by the anemic demand from its two large foreign markets-Southeast Asia and Japan.
Still, with the economy breezing past the Asian recession, the government of Prime Minister John Howard is intent on maintaining the economic reforms that have enabled Australia to run a surplus for the last two fiscal years. The administration has proposed broad-based changes to the tax structure. Such a plan would slowdown the Australian economy, but not for a while, since the changes would not take effect until July 1, 2000.
Before it's here, it's on the Bloomberg Terminal.
LEARN MORE