Ardent And Prism May Prosper
by
Back when technology and computer stocks were riding high, Ardent Software (ARDT) headed south, tumbling from 26 in early February to 14 in late March. The drop was due to concern that Ardent's acquisition of Prism Solutions, a developer of data-management software tools, might be in trouble. The worry is unjustified, say some money pros. Ardent, a data-management company, has since edged up to 19.
The deal, held up by the Securities & Exchange Commission over the question of accounting treatment, is expected to close on Apr. 28. The SEC last fall started a high-profile campaign against the use of pooling-of-interests accounting, which can inflate a company's profits. Pooling permits an acquiror to take excessive one- time write-offs to avoid repeated hits to future earnings. The deal may have to rely on purchase rules to account for the transaction.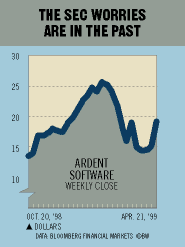 No matter, says Richard Baldry, an analyst at Pennsylvania Merchant Group. Despite the no-pooling ruling, Prism should increase Ardent's earnings, he says. Ardent, which has a record of slashing costs, will put Prism in the black, he adds. Prism lost $18.7 million in 1998 on sales of $52.1 million. He sees the combined company earning $1 a share and revenues of $180 million this year. Ardent Chairman and CEO Peter Gyenes confirms that Prism will add to Ardent's earnings starting this year. "Our goal is to grow revenues 25% to 35% a year," he says. Analyst Joseph Remelli of Duggan & Associates says Ardent is "worth 50 a share based on the price of its peers, which aren't growing as fast as Ardent."
Before it's here, it's on the Bloomberg Terminal.
LEARN MORE