A Village Opens Its Arms To Refugees...But The Welcome Isn't Unanimous
Teddy bears are piled high. Clothes overflow makeshift closets. Boxes of jeans and jackets still must be unpacked. Suddenly, a man enters the refugee center carrying pallets of a Belgian specialty--chocolate. "Stop," pleads Billy Jungling, a Red Cross director. "We don't have any more room for donations."
In a rural corner of Belgium, the Kosovo crisis has sparked an outpouring of generosity. About 170 Albanian refugees flew from Macedonia to Brussels on Apr. 18 and were bused an hour and a half to a vacation center in the village of Fraipont, high in the Ardennes hills east of Liege. Residents gathered at the front gates to cheer the refugees' arrival. Inside, Red Cross volunteers handed out clothes and chocolates. "Super," said Valbona Marevci, a mother of three crying with joy after their first warm meal and hot shower since Serb soldiers chased them three weeks ago from their home in Prizren.
The warm welcome represents a 180-degree turn in public opinion. A decade ago, Belgium and other Western European nations largely closed their borders to immigrants. High unemployment meant that potential new workers were not wanted, a point hammered home by the rise of the extreme Right. Even when refugees first started pouring out from Kosovo several years ago, most languished in centers waiting in vain to win political asylum--and local residents demonstrated against the Red Cross opening new centers.
But since the beginning of NATO bombing, both the people and governments of West Europe have rushed to respond. About $260 million in European Union funds have been pledged, with much more promised by individual countries. In Britain, more than $5 million in private donations was raised in less than 24 hours. In Italy, so many gifts were made of food, clothing, and bedding that the Red Cross asked that they be suspended. Everywhere, calls have flooded telephone lines offering lodging for refugees.
Unlike other refugees in Belgium confined to centers while courts consider their cases, the Kosovo arrivals receive immediate renewable six-month identity cards. "It's exceptional," admits Andre Narvaud, an immigration officer. In addition to free food and lodging, the refugees will receive "family" allowances while they're in Belgium. They can further supplement their incomes by working. "This is not a closed center," insists Thierry Beckers, director of the Red Cross political asylum program in Belgium.
PAINFUL MEMORIES. And why is the refugees' welcome so warm? Kosovo reminds Europeans of the two wars they lived through this century. Germans occupied French-speaking Fraipont during both world wars, deporting many residents. It also helps that Kosovo is close, only two hours away by airplane and populated by Europeans. "If these were black Africans, the story would be different," concedes Beckers. Two Rwandans fleeing their country's battlefield helped clean up the center for arriving Kosovars. Said one, who declined to give his name: "This is much nicer than where they keep us."
Marie-Jeanne Guillon was one of the few locals who didn't applaud the Kosovars' arrival. Her house is just across the street from the refugee center, and she figures it has lost a third of its value. Two hundred more Kosovars are expected to arrive soon in Fraipont, and even after they leave, the Red Cross plans to lodge other asylum seekers here. "I feel guilty to say it, but we're going to lose our tranquility," Guillon says.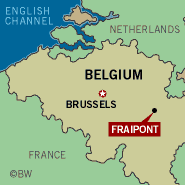 Indeed, it's questionable whether the welcome given Kosovars will translate into a long-term warming towards refugees. Belgium still plans to accept a total of 1,200 Kosovars--a fraction of the estimated 700,000 who have fled the province. Germany will take about 10,000. If more were let into their own countries, West European officials say it would justify Serb leader Slobodan Milosevic's aggression. Better to keep them in the Balkans.
Unfortunately, it's not that simple. Bajraktari Blerim paid Serb soldiers $270 to let his family escape to Macedonia, only to be beaten by Macedonian troops after he crossed the border. He had a cousin in Belgium, so he asked to go there. Eventually, he wants to go back to Kosovo: "It's my land," he says. But his glazed look of desperation seems to betray the feeling that his return remains a long way off.