A Banker's Holiday: Running A Hockey Team
The lights dim, green spotlights twirl, and the Guildford Flames take the ice with a roar from the crowd. It is playoff time in English ice hockey. The Flames, whose handsome glass-roofed home arena, the Guildford Spectrum, is about 50 kilometers southwest of London, are taking on the Telford Tigers.
The first period is tightly played and ends in a 1-1 tie. But as the game wears on, the stronger Flames gradually pull away, winning in an 11-2 rout and assuring themselves a berth in the next round of playoffs. With puck after puck sailing into the Tigers' net, the crowd of 1,500 strong is in good spirits. "After all the hard work, I am glad to see them getting their reward," says Alan Fowler, an electrical worker from nearby Tongham. "A lot of their success is owed to that man over there," he adds, indicating a stocky gentleman in a Flames cap.
That man is John K. Hepburn, a veteran investment banker who is vice- chairman of Morgan Stanley International Inc. in London. He and other Morgan Stanley bankers have pumped some $300,000 into the Flames, along with Hepburn's time and energy. He has become a kind of weekend sports mogul, one of many successful business executives, from Ted Turner to Rupert Murdoch, who own sports teams. But Hepburn isn't doing it for the money or even for a high profile. A Canadian who played college hockey at Princeton University, he is a devotee of the sport and its players.
When the Flames went belly-up five years ago, he saw a rare chance to indulge his love of the sport and to make a contribution to the Surrey area, where he has a weekend home. Morgan Stanley encourages its bankers to contribute to their communities through work on the boards of museums and hospitals. Hepburn is doing his share as an apostle of hockey in the English countryside. "It's a nice change from investment banking, and it has given the family something to do together," he says.
By rescuing the Flames, Hepburn has assured a livelihood for 22 players and a coach, many of them expatriate Canadians like himself. Hepburn already knew some of the Flames players, who were coaching his four sons in a junior hockey program. When the team ran out of money, a group of the players approached him for help.
BIG SPONSORS. The next few years were a struggle, but now the Flames routinely occupy one of the top slots in the nine-team British National League, one rung below Britain's top professional level, the Super League. This year, the Flames finished a disappointing third in the regular season and were knocked out in the semifinals. Nonetheless, Hepburn has put the team on a businesslike basis. His goal isn't to make money but just to break even, something he did this year on revenues of $800,000. Hepburn promises to plow any profits back into the team.
Last year, Hepburn persuaded retired banker Malcolm Norman to run the business day-to-day, but Hepburn himself is no slouch as an innovator and marketer. Deals with media outlets such as County Sound, a local AM radio station that airs a popular Flames show each Saturday, and cable telecaster CableTel, which broadcasts a Flames game each week, have added to the team's cachet. His investment-banking contacts haven't hurt in bagging such big-time sponsors as Scania, the Swedish truckmaker, and Arco, the oil and gas outfit.
In addition, each player is sponsored by local building contractors and other small businesses. The Flames also sell a line of uniforms and other paraphernalia that find ready buyers among their loyal fans. Sponsorship now brings in about 45% of the Flames' revenues. "We have the most professional organization in the league," declares Barcley Pearce, a Canadian who is the team's top scorer. That may not be as impressive as it sounds: The Flames' opponents, the Tigers, have run out of money, and during the game, the Guildford fans have to take up a collection to see their rivals through the next few days.
INSTANT CELEBRITIES. Hepburn, 49, attends every Guildford home game--usually with his wife, Jane, a Briton, and his four boys--and he still goes wild when his team nets a goal. He talks about the players as if they were family. He brought one of them, Ryan Campbell, into the business as chief of marketing. Campbell is one of several Canadians on the team who plans to make Britain his home. Often, as their professional hockey careers wind down, these Canadian players ease into local jobs. Aside from Campbell, several other foreign players also hold full-time jobs. One works for a sports-equipment company; another is a chef; a third is employed by a computer-technology firm. "Companies seem to like having a sports celebrity on their staffs," says Campbell. Top players take home about $30,000 after taxes for a seven-month season, and get apartments and cars, as well.
Most of all, the Flames players become instant celebrities in Guildford. Hepburn and coach Stan Marple look for players who will go out of their way to win over fans and play a role in the community. Several of the team's players participate in an antidrug program, using their high profile to reach the public with warnings of the dangers of chemical abuse. The team wins fiercely loyal fans in return. The fan, or "supporters," club, as it is known in Britain, even raises money for the Flames. The team averages about 1,500 fans for its 28 home games. Tickets are $12.50 for adults and $8 for children.
The Flames give those fans a good show. Although they are generally smaller than players in the National Hockey League and their shots aren't as powerful, they play a crisp passing game that can be more fun to watch than the boorish bump and grind of the North American pros. In an effort to develop local talent, the British National League requires that at least half of the 22-man squads be made up of players from Britain.
At the end of the game, the players circle the ice holding their sticks aloft in a salute to the crowd. There are drawn-out ceremonies on the ice where fans walk out on a red carpet for pictures and--in the case of women--kisses from favorite players. After dressing, the players are required to mix with spectators in the pub overlooking the rink.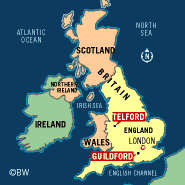 CHANGE OF PACE. Hepburn is part of the postgame activity, too. He presents a retiring member of the town council with a team jersey, then joins players in the noisy pub. He offers a few consoling words to a group of Telford players and promises to look into ways they might cash in stock that they have received in their owner's company. Hepburn is hoping to persuade the rest of the league to clean up its business performance. Missed payrolls and other shenanigans damage the sport, and owners should buy insurance or post bond, he says. He would like to cut a deal for a leaguewide cable contract, too.
Hepburn puts in enormous time and effort into the business, with little upside likely. Sipping a beer after the game, Hepburn insists that's beside the point. Small-time professional hockey is a nice change from the wear and tear of work in the City of London. And he has the satisfaction of being king of a sport that he loves in this corner of England.
Before it's here, it's on the Bloomberg Terminal.
LEARN MORE