Enter The Millennium Models
Spring is when a car fancier's attention turns to dealer showrooms. But if you can wait, some interesting new models will be arriving starting later this year. Detroit Bureau Chief Kathleen Kerwin made the rounds of recent auto shows and found debuts ranging from practical midsize sedans to wagons to mammoth sport-utility vehicles that dwarf this year's newest roadsters.
2000 SATURN LW WAGON
After nine years, General Motors' Saturn division gets a second model to sell with the arrival of the L-Series in July. GM hopes its conservatively styled LS sedan will win back Saturn loyalists who have been defecting to other makes as they outgrow their subcompacts. But it is the stylish LW wagon that could be Saturn's real smash among minivan-weary parents. The new midsize Saturn, powered by a standard V-6 engine, shares its chassis with GM's German-made Opel Vectra and will be built in Wilmington, Del., rather than Spring Hill, Tenn., home of the original Saturn.
NISSAN "Z" ROADSTER
Although auto enthusiasts have loved the "Z" cars since the Datsun 240Z hit U.S. shores in 1969, the last one, the Nissan 300ZX, disappeared from the market in 1996. Now, Nissan, beset by bland models and sales, is reviving its flagship sports car. The new "Z," as it is affectionately known, will arrive in showrooms in spring 2002. Nissan won't give details, but the concept car seen at recent shows offers clues. The show car is a two-seater with a long, sweeping hood. It's a rear-wheel-drive coupe powered by a 200-hp, four-cylinder engine.
2000 FORD TAURUS
Ford's crowd-pleasing family sedan lost its status as No. 1 in car sales in 1997, after a 1995 redesign that took its styling oval and its price skyward. For the revamped Taurus that hits showrooms this fall, Ford's designers ditched the elliptical radio controls, squared off the rear window, and cut costs. They hope the new car's more conservative looks, softer ride, and increased headroom and trunk space will win back customers. The updated Taurus also features a host of new safety features, including dual-stage air bags that adjust the force of their deployment based on seat-belt use, seating position, and severity of a crash. The car also has optional side air bags and adjustable accelerator and brake pedals, so shorter drivers need not sit too close to the steering wheel air bag.
2000 CHEVROLET SUBURBAN
Late this year, GM will bring out an all-new edition of the granddaddy of giant sport-utes, the Suburban. The company increased the new truck's headroom, legroom, and hip room without adding to the SUV's overall length. Still, the Suburban remains a leviathan. At more than 18 feet long and 6 1/4 feet tall, the jumbo SUV towers above anything on the road smaller than a Mack truck. True, Ford's even bigger Excursion mega-SUV will steal Suburban's biggest-on-the-block thunder when it debuts in late September. But General Motors executives say their SUV--which comfortably seats nine--fits in most garages, unlike the Excursion, which is seven inches longer. The new truck also offers a fold-down, stowaway rear seat and improved handling. Chevy and GMC versions of the Suburban are expected to go on sale by December.
HONDA S2000 ROADSTER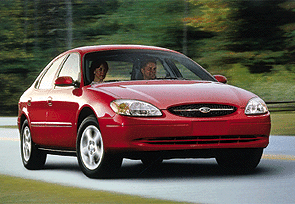 Ever since German auto makers revived the roadster a couple of years ago with the BMW Z3, Mercedes SLK, and Porsche Boxster, competitors have been scrambling to tap into the trend for zippy two-seaters. Honda's jaunty entry, arriving in late September, is the high-tech S2000. Its rigid body construction and advanced suspension system promise road-hugging performance. With its race-car-style push-button starter, six-speed manual transmission, and rear-wheel drive, Honda's roadster is targeting driving enthusiasts. The lightweight convertible's four-cylinder engine produces 240 hp but still meets California's strict requirements to qualify as a low-emissions vehicle. Designed in Japan, the roadster has a digital instrument panel and a power soft top. The S2000 is expected to sell for about $30,000.