U.S.: Nice Picture, But Where Are The Profits?
They'll likely stay flat as labor costs climb and pricing power stays weak
By
It's earnings season once again, and first-quarter profit reports are beginning to trickle in. Investors have sent the Dow Jones industrial average soaring into 10,000 territory in anticipation of some good news from the bottom lines of Corporate America in 1999. But by the end of the year, will investors be disappointed?
It's a legitimate question. Companies struggled to show little if any earnings growth last year, even in a booming economy. The problem: While excellent productivity gains restrained unit labor costs, a severe lack of pricing power prevented many businesses from covering even modest cost increases. As a result, the Commerce Dept. recently reported that fourth-quarter corporate profits fell from the previous quarter despite 6% growth in real gross domestic product. Compared with a year ago, earnings posted no growth despite a 4.3% pace of real GDP.
This year's profit landscape looks to be more of the same. Pricing is sure to remain tough, and cost containment will be an ongoing battle amid supertight labor markets. And even top-line revenue growth may slow if the economy fails to post another bang-up year of 4% growth. Moreover, nonlabor costs will not be as friendly this year as they were in 1998. Past benefits from falling interest costs have played out, and last year's savings from cheaper raw materials also has about run its course, especially now that energy costs are up.
Nevertheless, "top-down" earnings forecasts for 1999, based on overviews of investment strategists, currently see 6% to 8% growth in operating earnings per share. And the always optimistic "bottom-up" projections, aggregated from individual industry analysts, expect growth in the 15% to 20% range. Analysts are betting on the absence of several factors that depressed profits in 1998, including falling oil prices, big trading losses at financial companies, and the strike at General Motors Corp.
MEETING THOSE EXPECTATIONS will be tough for many corporations, though, since Corporate America is losing ground to Household America (chart). In a dramatic reversal of trends since 1997, the share of national income going to profits has declined steadily for five quarters in a row after rising earlier in the 1990s. At the same time, the share of labor compensation is rising, following a long erosion.
However, even though the wage bill for companies is rising (an offshoot of the scramble to find scarce labor), businesses have valiantly held the line on labor costs. Pay to production workers, for example, rose only 0.2% in March, and yearly growth has actually slowed, to 3.6% in March from a high of 4.4% a year ago. Companies increasingly are using temporary workers to match labor with output needs, and they are shifting to variable pay and other forms of salaries, such as stock options. Companies are also trying to boost productivity by investing in high-tech equipment. The result of these efforts last year was a slim 1.9% increase in unit labor costs among nonfarm businesses.
But prices in this same sector grew only 0.7%. No surprise, then, that Commerce's report showed that profits per unit of output, a kind of economywide profit margin, fell in the fourth quarter to the lowest level in 3 1/2 years, extending a steady drop that began in the summer of 1997. Simply put for 1999, unless prices pick up or unit labor costs slow even more, profit margins will continue to erode and companies will have a hard time generating earnings growth.
THE MARCH EMPLOYMENT REPORT illustrates why a profit rebound in 1999 will be difficult to mount. Not only did the jobless rate dip to a 29-year low of 4.2%, the latest labor-market trends suggest that the unemployment rate may well slip even lower. In fact, if employment and the labor force continue to grow at their paces of the past six months, joblessness will dip below 4% by this summer (chart).
Of course, aside from the jobless rate, the March job report didn't look particularly robust. Nonfarm industries added a mere 46,000 workers to payrolls, the smallest monthly gain in over three years; the workweek fell; and factory payrolls continue to shrink. However, the payroll data this past winter say more about the weather than about job growth. February was mild, which boosted hiring in construction and retailing by a combined 160,000 workers. The shift to harsher weather in March resulted in a combined 58,000 decline. Given the first-quarter strength in housing and consumer spending, that loss is more statistical than real.
The poorer building weather also contributed to the six minute slip in the average nonfarm workweek, to 34.5 hours. For the first quarter, total hours worked grew at an annual rate of just 2%. With domestic demand probably up at twice that pace, businesses likely relied on productivity gains to meet the needed increases in output.
SIZZLING PRODUCTIVITY GAINS, however, aren't enough to boost profits if the sales revenue isn't there. Nowhere is this truer than in manufacturing, where fourth-quarter earnings dropped sharply. Factory profits per unit of sales fell to a three-year low at the end of 1998, the worst year for factory-sector output and employment since the 1990-91 recession.
The combination of weak foreign demand and cheap imports has taken capacity utilization in U.S. manufacturing to a seven-year low. Little wonder, then, that factories continue to shed workers. Factory payrolls dropped by 35,000 in March, and over the past year, they have declined by 381,000, a layoff rate close to recessionary levels (chart).
The purchasing managers index of industrial activity for the past two months has held out some hope that manufacturing may have hit bottom. The March index rose to 54.3%, a 16-month high. But the latest data on jobs and hours worked suggest that March manufacturing production remained soft. Indeed, factory output last quarter appears to have grown at an annual rate of little more than 1.5%, less than the 2.6% average during the second half of last year.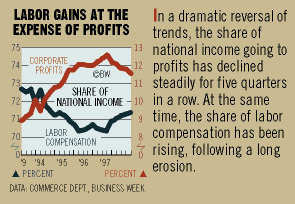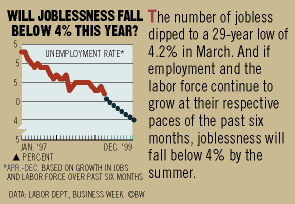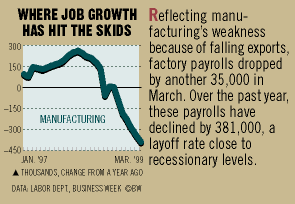 Any strength in the factory sector will stem from domestic demand, led by households. With real consumer spending up a large 0.7% in February, consumer purchases likely grew at an annual rate over 5% last quarter, and March car sales were exceptionally strong for yet another month.
In addition to greater household buying power, consumers' capacity to spend also has come from wealth generated in the stock market, where prices reflect future-earnings expectations. So if earnings disappoint, Corporate America's profit problem could become a problem for Household America as well. And for 1999, companies remain caught in a vise: Tight labor markets at home will make cost containment hard, while weak economies abroad will continue to sap pricing power.
Before it's here, it's on the Bloomberg Terminal.
LEARN MORE