Spring Break And Not A Beer Bash In Sight
It's spring break, and here in Anacostia, an impoverished section of southeast Washington, D.C., Laura Matyas is barking out marching orders to a group of college students. "Who's on the glue crew?" she shouts. "Someone get that sprinkler out of the way." Matyas, a D.C. resident and member of AmeriCorps--President Clinton's domestic Peace Corps--is supervising students who have opted to spend their spring break measuring, cutting, and installing drywall. By Memorial Day, the house they're working on will become the home of a low-income family.
On this cool, sunny morning, 10 students from Massachusetts Institute of Technology in Cambridge, Mass., and another 10 from Dartmouth College in Hanover, N.H., have teamed up with a half-dozen members of AmeriCorps to begin interior construction on the three-bedroom, one-bath house. Students are helping to build 6 of the 30 or more houses that AmeriCorps and the Washington (D.C.) chapter of Habitat for Humanity are constructing this spring in the Anacostia neighborhood.
Dressed in jeans, sweatshirts, and sneakers, the students at first stand around waiting for assignments. They laugh self-consciously as AmeriCorps workers pick 15 of them and direct them to one of the second-floor bedrooms. (The other five are assigned to the kitchen.) Most have never worked in construction. They listen intently to the instructions, then tentatively begin to work, shedding sweatshirts as the temperature rises. One student discovers that she's a good nailer, another that his hands are steady enough to measure and cut drywall. A third applies drywall glue to wall studs. The site seems different from most construction sites--more laughter, more smiling faces. But the students work hard, and by day's end, the bedroom drywall is finished. The next morning, they attack the second bedroom. The students are surer of themselves now, and the work goes faster.
"ALTERNATIVE" ROCKS. Building houses for the poor isn't the popular image of spring break, that collegiate ritual that's more often connected with beer and beaches than good works. But this year, some 20,000 students are participating in alternative spring breaks, performing such tasks as renovating houses for low-income families, beautifying nature trails, helping out at underfunded public schools, and serving meals at homeless shelters.
Pounding down beers instead of nails still appeals to many students, of course. But the ranks of alternative spring breakers is growing. In addition to volunteer work, students will raise an estimated $700,000 for charities this year, predicts Habitat for Humanity International, based in Americus, Ga. Today's college students, it seems, do have a sense of purpose after all.
This year, Habitat expects a 20% increase in participants in its spring-break program, Collegiate Challenge, to 7,500 from 6,200 a year ago. Since 1990, more than 35,000 students have spent their spring breaks volunteering for a wide range of programs sponsored by Habitat, the largest organizer of student volunteers. Students also do unpaid work for the Salvation Army, Teach for America, Volunteers of America, and other organizations. In fact, volunteerism is greater among young people than at any time since the 1960s, says Steve Messinetti, director for campus and youth programs at Habitat For Humanity International. The emphasis on community service now starts in high school, Messinetti says: "As they learn about volunteering at a young age, they make it part of their life."
Business is helping. Johnson & Johnson, Ford Motor, American Airlines, and Timberland, among others, are funding spring-break work trips. Ken Freitas, vice-president for community outreach at outdoor outfitter Timberland, says there are good business reasons for companies to support student volunteerism. "Community service is beginning to resonate with college students, and they are an important group of customers," he says. By subsidizing volunteer work, Timberland also gains a business advantage because it makes the company more attractive to potential employees, Freitas adds. "Employees learn to work together in different ways...that aren't readily available on an organizational chart," he says.
Still, programs such as Habitat could use more corporate funding, and lack of underwriting limits the number of students who can get involved. Donald E. Hayes, coordinator of community services at Keene State College in Keene, N.H., turned away two dozen students who wanted to participate. Hayes capped the number of students at 120 because of the cost of transporting and housing them at the work sites in Washington, South Carolina, North Carolina, and Georgia. In fact, the students had to cough up $130 each to help with expenses. Depending on the amount of money they can raise from businesses and elsewhere--parents, for instance--other students shell out as much as $200 to volunteer their services. That goes a long way toward debunking the myth that college students are self-serving and apathetic, says Frietas. Harvard University senior Michael Hellerstein paid $140 to lead a group of 20 students to Washington. It was money well spent, he says. "Five to 10 years ago, the focus was all academics, but now, community service is becoming more and more important," he says.
Why has volunteering become so attractive to Hellerstein and other students? It's a chance to "do something meaningful instead of just going to the beach or going home," says Ohio State University senior John Pease, who is spending his spring break at a Habitat project in Jacksonville, Fla. Volunteering is "one way students can make a big difference," says Michael Carr, a graduate student at the University of Michigan at Ann Arbor who is coordinating Habitat volunteers there. At the Anacostia site, Abigail Webster, a Keene freshman, applies sealant to drywall seams as she explains that alternative spring breaks offer "something for yourself and someone else."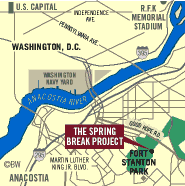 EXTRAS. Students readily admit that their volunteerism isn't entirely altruistic. Like any good spring-break activity, it's a way to meet others. Volunteerism also adds a little something extra to their resumes that they believe will make them more attractive to prospective employers. And it imparts practical knowledge that they wouldn't get in the classroom. Sylwia Damiscedska, who is majoring in architecture at mit, says working at the Washington site makes architecture less abstract. "Architecture is brought to life," she says.
But most students say they volunteer because helping others is the right thing to do. The message on the T-shirts worn by Keene State students sums it up: "I remember my spring break...do you remember yours?"
Before it's here, it's on the Bloomberg Terminal.
LEARN MORE