Kushner Locke: Web Gumshoe
By
Kushner-Locke (KLOC) may not be so hot as a maker and distributor of feature films and TV programs. But some pros expect it to make a splash as a Net service provider. The company owns 80% of a Web-based outfit called 1-800-U.S. Search, said to be bound for an initial public offering.
This Web portal provides--through its Web site and toll-free phone services--help in finding people, conducting background checks, and verifying identities to prevent fraud. Kushner has signed a $5 million pact with Lycos, a major Web media company, for its Search unit to provide users of Lycos Network the ability to do searches via the 1800ussearch.com portal.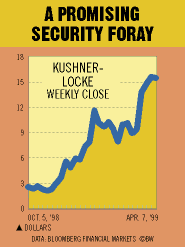 "What makes Kushner different from its Internet rivals is that its page views average 50,000 a day, yet its stock hasn't reflected its potential," says a New York money manager, who has been buying. The stock has gone from 8 in mid-February to 15. He puts the company's Internet revenues at $800,000 a month, or about $10 million a year. This is higher than at other Net portals, including Zoom.com, which has a market cap of more than $1 billion, and theglobe.com, whose market cap is $583 million--compared with Kushner's $171 million market value. Zoom.com posted 1998 sales of $840,000 and theglobe.com had $5.5 million, vs. Kushner's $75 million.
Big investors expect Kushner will take its Internet business public sometime in the summer. One Internet analyst says that based on the valuation of MarketWatch.com, which posted revenues of $7.03 million in 1998, 1-800 U.S. Search could command a price of 30 a share. MarketWatch.com, whose shares trade at 80, has a market cap of $1 billion.
Before it's here, it's on the Bloomberg Terminal.
LEARN MORE