Euro Zone: Off To A Plodding Start
by
The European Commission lowered its economic forecast for the euro zone for 1999 and 2000. The downward revisions surprised no one. In fact, one member of the European Central Bank described the new numbers as "still on the optimistic side."
The Mar. 30 EC report said that the combined real gross domestic product for the 11 euro zone countries will rise 2.2% in 1999 and 2.7% in 2000. Those growth rates are down from the respective 2.6% and 2.9% rates forecast in October. Real GDP grew 3% in 1998. Inflation will likely run 1.3% this year, below the ECB's target rate of 2%, so the central bank could cut interest rates to help the economy along.
Recent data confirm the growing weakness in the euro zone, especially on the production side. Businesses are facing falling export demand because of the recessions in emerging markets. And inventories at home are being reduced sharply. As a result, business confidence and factory production are down in early 1999. Moreover, businesses expect foreign demand to remain weak in 1999, although this year's 9% drop in the euro vs. the U.S. dollar will give European exports a price edge.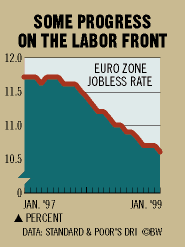 Domestic demand, although slowing, looks sturdier than output. Dutch and Irish household purchases are on the rise. And French consumers are spending strongly despite a rise in the February unemployment rate to 11.5%. German demand, though, is weak because of puny income gains and low job growth.
In fact, a critical problem for euro zone officials remains sluggish job growth and a high unemployment rate. Although the combined jobless rate has come down from a peak of 11.8% in 1994, the rate in January was still a worrisome 10.6% (chart). High unemployment is more a result of structural problems--such as government mandates that make it hard to lay off workers when demand slows--rather than cyclical forces. But an outlook calling for slower output growth certainly doesn't help the more than 13 million euro zoners looking for work.
Before it's here, it's on the Bloomberg Terminal.
LEARN MORE