E.Spire: A Direct Link To The Net
by
Shares of e.spire Communications (ESPI) have been in an upswing since February, when they were trading at 4 1/2. They have since soared to nearly 11. Some pros regard this local telephone carrier as an undervalued backdoor entry to the Internet game. Adding to the allure: takeover talk.
"Here's a company that benefits directly from robust Internet traffic--and whose stock is still inexpensive," says Frank Murphy of First Union Capital Markets. Despite e.spire's advance, it's way off its 52-week high of 23 reached on July 8. Murphy doesn't think a deal is imminent, but he says the stock's current valuation has been so discounted that "its potential as a takeover target has become justifiable."
The company builds digital fiber-optic networks and offers local telecom services to interexchange carriers and end users in the southern U.S. Following its acquisition of Cyberscape in January, 1997, e.spire started supplying high-speed data communications services to provide Internet access for its commercial and residential customers.
Topping the list of companies rumored to be interested in acquiring e.spire is Qwest Communications International, which also builds and installs fiber-optic systems. Qwest provides Internet and multimedia services, as well.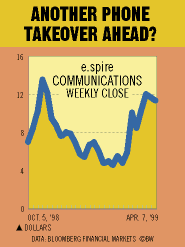 Murphy says other companies that could also be looking at e.spire include AT&T, MCI WorldCom, and such foreign carriers as British Telecom and Cable & Wireless. MCI WorldCom already has links with e.spire: In 1997, e.spire signed a five-year pact with MCImetro to be its preferred local provider of dedicated and transport services in 21 of its markets. In exchange, e.spire issued warrants to MCI to buy as many as 620,000 common shares at $9.86 a share. It also agreed to issue a further 2.3 million warrants based on specified revenue increases. An e.spire spokeswoman declined comment.
Before it's here, it's on the Bloomberg Terminal.
LEARN MORE