Detroit In Japan: A Car Wreck Of A Car Strategy
The Big Three set out to conquer Japan--and got banged up badly
by
It seems a distant memory, but four years ago, the U.S. and Japan came to the brink of a nasty trade war over Detroit's demand for access to the Japanese market. President Clinton threatened to slap 100% tariffs on Japanese luxury cars. Detroit auto chieftains, including Ford Chairman Alex Trotman, denounced the Japanese, while Tokyo accused the Big Three of being uncompetitive. Only the last-minute intervention of then-U.S. Trade Representative Mickey Kantor kept the peace. Japan agreed to encourage its car dealers to embrace U.S. autos, and Detroit said it would dispatch a parade of products customized for the Japanese market. Clinton crowed: "This breakthrough is a major step for free trade throughout the world."
Well, not exactly. Today, America's $40 billion automotive trade deficit with Japan remains where it was in 1995--two-thirds of the U.S.'s overall trade shortfall with Japan. Imported cars remain a paltry 8.5% of the Japanese market, and European models account for most of that. Detroit's much-ballyhooed right-hand-drive models went unsold as the Japanese economy sank into recession. And now, Detroit is quietly retreating from the market. "We've got a hunker-down strategy in Japan, where we try to hold on and hope to do better in the future," says Mustafa Mohatarem, General Motors Corp.'s chief economist and Asian specialist.
The episode provides a cautionary tale for the Clinton Administration as it squares off again--this time against China in an effort to open its markets to U.S. products. The moral of the auto deal's failure: Washington can open the doors, but industry has to follow through. "We worked hard on this [auto] agreement," gripes a senior official. "But we warned early on that it would only work if the Big Three was fully committed to an all-out marketing push in Japan."
In fact, Detroit failed to deliver the goods that Japanese consumers crave. The result: As the Japanese car market has sagged due to the nation's economic problems, sales of Detroit's cars have been creamed, dropping at twice the 12.1% rate of the overall market last year. The Big Three sold just 77,299 cars in Japan. "For two years we have tried to sell Ford cars, but it never became a good business. We are in the red," says Hiroyuki Ogura, a spokesman for one of Ford Motor Co.'s top Japanese dealers, Tokyo Nissan Auto Sales, which stopped selling Ford models last month.
Ford, in fact, is quietly pulling the plug on the Japanese Taurus, which was too long to fit into Tokyo parking spaces. Sales of DaimlerChrysler Corp.'s once-popular Jeep have fallen by half now that Japanese consumers prefer station wagons to rugged off-road vehicles. Even Saturn, which boasted a Japanese-like approach to customer service, has been humbled.
Another problem: Cars such as GM's Cavalier and Chrysler's Neon compact were aimed at the heart of Japan's market, where local players such as Toyota and Honda rule the road. "They were trying to make a frontal assault against the Japanese producers on their home turf," says Wasserstein Perella auto analyst Scott Merlis. "That's like beating your head against the wall."
WHITE FLAG. Now, Detroit is reversing course. Instead of expanding distribution with 200 new dealerships a year in Japan--one of the 1995 targets--U.S. auto makers are closing more stores than they are opening, says trade consultant Scott Latham. With only about 600 outlets now, Detroit has no hope of reaching Kantor's goal of 3,000 Japanese dealers by 2000. Says Stephen J. Collins, president of the Automotive Trade Policy Council, Detroit's lobbying arm: "All the indicators are going the wrong way."
Indeed, Detroit's executives in Japan are beginning to wave the white flag. Mitsuru Sato, the new president of GM Japan, says his company should simply stop shipping cars from America. "GM should not import more vehicles from North America but bring more Saabs and Opels from Europe," says Sato. "The Cadillac and Chevy are a little too large for the Japanese market." That might help GM's global sales, but it will do nothing for America's trade deficit.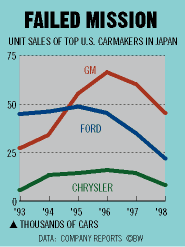 With U.S. sales headed into record territory, Detroit executives aren't dwelling too much on the Japanese problem. Still, Ford, GM, and Chrysler have come up with a new approach: Instead of fielding its own models, auto makers are buying up struggling Japanese carmakers. Last year, GM took a controlling interest in Isuzu and a 10% position in Suzuki. Ford took control of Mazda in 1996 and is steering a turnaround. After a fickle flirtation with Nissan, DaimlerChrysler abandoned the effort and is still looking for an Asian partner. "You have to be nimble enough to change your strategy," shrugs Mohatarem. In other words: If you can't beat 'em, buy 'em.
Before it's here, it's on the Bloomberg Terminal.
LEARN MORE