Big Flower May Blossom Online
by
Based on its core business of printing ad inserts for newspapers, Big Flower Holdings (BFG) has drawn raves from Salomon Smith Barney, CS First Boston, and Goldman Sachs. But what may attract fresh investors is the Net.
"The recent strength in Big Flower stems from investors' enthusiasm for its Internet investments," notes Jan Del Giudice at Salomon Smith Barney. Through its XL Ventures unit, Big Flower has made strategic investments in several Internet companies.
It owns 737,864 shares of Miningco.com, a provider of Net news, information, and entertainment, plus 1.8 million shares of 2 4/7 Media, which operates 2 4/7 Network, whose 100 Web sites deliver ads and promotions. Big Flower has also bought into private companies: Andromedia, WorldGate Communications, and NuTel Communications.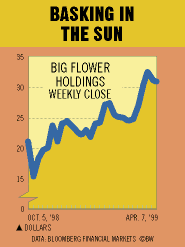 These investments, says Del Giudice, bring Big Flower strategic Internet expertise. She figures that if they were monetized and taxed, the investments would have a market value of at least $130 million, or $5 to $6 a share in Big Flower's stock. And if WorldGate goes public, it should add a further $1 to $2 a share. With the Internet play, the stock, now at 30, could go to 40, says Del Giudice.
The Internet investments, according to CS First Boston analyst Steven Barlow, reflect Big Flower's move toward becoming a "New Economy" company, by deemphasizing its heavy, fixed-capital businesses and focusing more on content-management and value-added services. That will require far less financial capital and more human capital, says Barlow. The result: higher returns because of high margins and fast capital turnover.
Before it's here, it's on the Bloomberg Terminal.
LEARN MORE