Beirut Looks To Fill Its Coffers...While Cracking Down On Corruption
Kirk Albrecht
When former army general Emile Lahoud became Lebanon's President late last year, he quickly dumped Premier Rafik Hariri, architect of Lebanon's drive to rebuild after its devastating civil war in the 1970s and '80s. Even the most jaded Lebanese, used to decades of political wrangling, were shocked by the summary dispatch. After all, it was Hariri's financial prowess that had almost single-handedly brought Lebanon back from the rubble. But while the house was going up again, financial cracks had already appeared in the foundations.
The reconstruction of downtown Beirut came at a high price: spiraling debt and a mounting budget deficit. "It's Lebanon's two-headed monster," says one senior Western diplomat. Cries of everything from mismanagement to corruption have come forth from the new government, headed by conservative Prime Minister Salim Al-Hoss. Officials are pointing fingers at Hariri and his unquenchable drive to make Lebanon once again the financial center of the Middle East. "The previous government didn't know when to stop spending," says current Finance Minister Georges Corm. "We were dealt a bad hand of cards, and now we have to make it good."
The numbers don't look good, that's for sure. Public debt is $18.5 billion, more than 115% of gross domestic product, while the budget is facing a deficit of $2.5 billion, or more than 40%. GDP growth has dropped since 1994, to 3% last year, and the balance of payments was in the red in 1998 for the first time in six years. Debt service takes up close to 50% of the budget, while civil service salaries account for 35%, leaving a meager 15% to work with. "There's little we can do, but we're trying," says Corm.
What they're going to try may not sit well with the average consumer. During the Hariri years, taxes on corporate profits were brought down to a flat 10% from as high as 40% in an attempt to stimulate the economy. Local economic analysts say that's going to be tough to maintain. And everyone is waiting for the new budget to be revealed, probably in June. Spending will rise 18%, which means new taxes, but they haven't been spelled out yet. Officials say an overhaul of the tax structure is in the works, with a single rate for personal income tax. There's talk of a value-added tax on consumer goods or new levies on gasoline and luxury cars. Such measures would be phased in over three to four years. To actually get the money into the state's coffers, Lebanon will boost the number of tax collectors from just 330 to 1,000.
WILD NUMBERS. The government is also talking of selling off state-held companies such as Middle East Airlines and Casino du Liban but has taken few concrete steps. "Privatization is the country's biggest economic challenge," says Paul Salem, president of the Lebanese Center for Policy Studies and professor at the American University of Beirut. "They have to sell off, but the questions are to whom, and for how much." Wild numbers are thrown around when trying to value such entities, but privatizing could raise $4 billion to $5 billion over the next five years. That much cash sure would come in handy.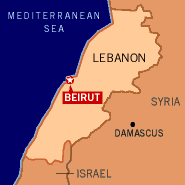 Some think Hariri's legacy is far more negative than just rampant spending. Complaints of corruption during his tenure are widespread, and now there's a scandal that could uncover some real dirt. In early March, former Oil Minister Shahe Barsomian and three of his ex-employees were indicted and arrested for fraud and embezzlement related to deals worth $800 million to resell imported oil. Some estimates claim Barsomian pocketed $100 million in the scheme. And a report just issued by an independent Auditing Commission claims Hariri's government misspent $500 million that should have gone to Beirut's municipalities. President Lahoud, with backing from Syrian leader Hafez Al-Assad, is vowing to clean up Lebanon from the top down.
Soon after coming into office, Finance Minister Corm put up a sign in the waiting area outside his office. Its headline reads, "A working definition of integrity and corruption," and it points out that the difference lies in who gains, the public or the individual. Corm says it serves notice where the government was--and where it's going.
Before it's here, it's on the Bloomberg Terminal.
LEARN MORE