America's Last Emperor Of Finance
by
MORGAN
American Financier
By Jean Strouse
Random House 796pp $34.95
He was "the Napoleon of Wall Street," who twice rescued the U.S. economy from collapse. Yet he frequently reported feeling "worthless" and "unfit for anything" as a result of bouts of depression. John Pierpont Morgan was also master of dozens of major businesses and creator of U.S. Steel, a corporation initially capitalized at four times what the federal government spent in a year. Yet throughout his life, leisure was as important to him as work: He repeatedly threatened to retire and regularly took off several months and even years.
As befits such a complex, outsize personality, author Jean Strouse has written a Goliath of a biography, Morgan: American Financier, which is nearly 800 pages long. Strouse, whose biography of Alice James (sister of Henry and William) won Columbia University's Bancroft Prize in American history, has pored over troves of little-seen letters, documents, and the diaries of Morgan, his relations, and associates. The result, the product of more than a decade's effort, is an admirable, often lively work, with many revelations about Morgan and members of his circle. Yet at times, readers may feel overwhelmed by the cornucopia of detail. And in the end, we still fail to fully understand the empire-builder and art shopaholic extraordinaire, whom historian Henry Adams once accused of "trying to swallow the sun."
J.P. Morgan was no self-made man. Both sides of his family were well-established, with roots that extended back to colonial America, and the Morgans were already rich by the mid-1800s. J.P.'s father, Junius, was a prosperous New England merchant when, in the 1850s, he was hired by George Peabody, the leading American banker in England. They created a thriving business channeling British investment into capital-hungry America.
Junius determined to pass his good fortune on to his progeny. He relentlessly groomed his son, Pierpont, as he was known, to take over the business, selecting courses of study for the youth in Switzerland and Germany, arranging a Wall Street apprenticeship, and hectoring Pierpont on matters great and small. Only occasionally did Pierpont show signs of rebellion. At 24, he chose, despite Junius' rather qualified blessing, a wife who was ill with tuberculosis. (She died during their European honeymoon.) And in the mid-1860s, the son took part in a lucrative gold-speculation deal, the recklessness of which outraged Junius. On most things, though, father and son agreed--notably on the matter of the American Civil War, which both saw as an opportunity not for sacrifice but for profit. Like many other privileged young men, Pierpont paid a substitute $300 to take his place in the Union army.
The post-Civil War years saw a surge of investment in America, notably in railroads--which, Strouse observes, "consumed money on an altogether colossal new scale." For the rest of the century, the Morgan interests would not only organize funding for the railroads but also try repeatedly to discipline an industry plagued by suicidal rate wars. And in the 1870s, Junius' financial rescue of a bankrupt France heralded the Morgans' arrival into the top tier of international banking.
Strouse is more interested in Morgan's personality and private life than in his business exploits, a concern that distinguishes her book from Ron Chernow's 1990 The House of Morgan. She draws upon numerous observers, from journalist Lincoln Steffens to British partner Edward C. Grenfell, to provide sketches of the man whose commanding physical presence--including a terrifying gaze and a gargantuan, deformed nose--could part crowds on the street. And Morgan picks up steam when describing how, with Junius' 1890 death, a now fabulously rich Pierpont became ever freer to indulge his personal interests: yachting, an eccentric and highly personal philanthropy, philandering, and amassing an enormous art collection.
"Operating on an imperial scale in the early 20th century, he seemed to want all the beautiful things in the world," Strouse writes. Gutenberg Bibles, Vermeer and Gainsborough paintings, Chinese porcelain, medieval tapestries, Regency furniture--"Morgan did not care how much he had to pay for important works of art," the author observes, and he purchased more "than he could house or even see." By 1912, he had spent more than $60 million, or roughly $1 billion in today's money. In addition to filling his father's former London residence--which began to resemble "a pawnbroker's shop for Croesuses," in the words of art dealer and critic Bernard Berenson--and his own private New York library with art, New York institutions such as the Metropolitan Museum of Art were beneficiaries.
Such indulgences notwithstanding, Morgan had accepted the idea by late century that neither the several Morgan financial entities nor the international economy could get along without him. In the defining event of his career, Morgan responded in 1895 to what Strouse calls "an international run on the Treasury," which was brought on by the populist farmers' political campaign against the gold standard. Nervous foreign investors began dumping U.S. securities and transferring gold abroad. The federal government was near the point of defaulting on its debts, which would have had catastrophic consequences for the financial markets. In response, Morgan organized a $62 million bond issue to shore up the Treasury and intervened in foreign-exchange markets to prop up the dollar.
In an equally dramatic episode, in 1907, a financial panic precipitated two weeks of frantic activity. Strouse stirringly describes how, with financial institutions and even New York City tottering, Morgan one evening summoned more than 50 bankers to his library, locked the doors, and forced them to come up with $25 million in bailout funds. Thrusting a commitment statement before one man, Morgan flatly commanded him to sign: "There's the place," he indicated, "and here's the pen." At 4:45 a.m., the library doors were opened, and the bankers were set free.
On these two occasions, Morgan acted as if he were America's central banker--a post that did not then exist. But public-spiritedness was hardly his only motivation: In each instance, as the author indicates, Morgan and other investors emerged from the crises considerably enriched.
For all such detail, Strouse's work ultimately fails to penetrate the veil that the brusque and standoffish Morgan draped around himself. Why, for example, did J.P. virtually ignore his son, Jack, and repeatedly turn to other men when filling important openings? It's as if Morgan were modeling his mentoring behavior on that of the childless Peabody rather than on that of his father, whom he worshiped. Moreover, while even colleagues found Morgan to be a foreboding, self-absorbed tyrant, he repeatedly took on the role of savior, both toward personal acquaintances and on the global economic stage. Why? Strouse is certainly aware of these questions, but she declines to offer conclusive answers.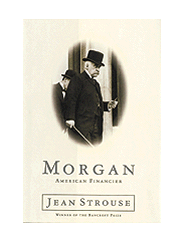 The last years of Morgan's life were marred by tribulation and failure. In the early 1900s, he organized a huge consolidation of transatlantic shipping companies that proved "a financial fiasco," in Strouse's terms. Then, in 1912, catastrophe struck, as the trust's flagship, the Titanic, sank to the bottom of the ocean. That same year, Congress set out to investigate whether, as was increasingly charged, a malignant money trust controlled the financial destiny of the U.S. Morgan was called before a congressional committee, where the 75-year-old financier faced a grilling. Both the press and the stock market reacted favorably to Morgan's testimony. But at the end of the following month, while traveling in Egypt, he suffered an acute nervous breakdown and two months later was dead. Never again would a private individual play such a supervisory role in America's economy: In the year of Morgan's death, Congress unwittingly paid him tribute by establishing the Federal Reserve system, a body that would henceforth assume the role of the U.S. economy's visible and guiding hand.
Before it's here, it's on the Bloomberg Terminal.
LEARN MORE