A Tidy Bundle In Air Cargo
Atlas Air may be No. 3, but its low-cost structure is tops
Steven V. Brull
Michael A. Chowdry remembers the exact moment Atlas Air Inc. was conceived. It was August, 1991, six months after the Persian Gulf War, and he was peering out of his hotel room window overlooking Hong Kong's Kai Tak airport. Although lingering fears of terrorism had sharply thinned the number of passenger flights, the landing lights of cargo planes stretched like pearls to the horizon. Leisure travelers can be fickle, but as Chowdry was learning, not even a war slows air freight.
He didn't dawdle. Starting with just a single plane, Chowdry launched Atlas Air a year later in Golden, Colo. Since then, the company has grown into the world's third-biggest cargo carrier. Although it's far behind Federal Express Corp. and United Parcel Service Inc., some argue that its low-cost, high-margin structure may in some ways be the best in the business. Steering clear of overnight letter delivery, Atlas instead is an outsourcer, leasing planes with crews for long-haul transport of manufactured goods and farm products. "They've developed a really unique niche," says analyst Ray E. Neidl of ING Baring Furman Selz.
FREIGHT BOOM. The trend toward global manufacturing and shrinking product cycles has demand for air cargo booming, and Chowdry, 44, is reaping the rewards. Sales last year hit $422 million, up tenfold since 1993, while operating earnings reached $136 million. Atlas shares have more than doubled since their 1995 initial public offering, to a recent $29.
Outsiders see more clear skies ahead. Worldwide cargo shipping will triple over the next 20 years, Neidl estimates, and Atlas continues to expand rapidly. The company just added five new 747-400s, the longest-range, most fuel-efficient freighters in the world, to its fleet. The new jets, which cost an estimated $600 million, can save shippers money by eliminating stops and can shave hours off shipping time.
The new planes have weighed on Atlas' balance sheet. Atlas pays 20% to 30% of a plane's cost in cash. Institutional investors finance the rest. Total liabilities last year rose to $1.7 billion, or 82% of capital, from 76% the year before. But thanks to stronger cash flow and better interest terms, debt coverage actually improved.
Atlas has also minimized risks by renting its planes for three to five years to customers such as China Airlines Ltd. of Taiwan and British Airways PLC, giving it revenue stability uncommon in the industry. Atlas provides exclusive use of jets, and nonunion crews. The biggest risks--fuel prices and shipping demand--are borne by the customer. Plus, Atlas doesn't have to maintain fleets of trucks for door-to-door delivery. Speeding German-built Volkswagen engines to Brazilian assembly lines and U.S. cattle to Asia, Atlas planes, Chowdry explains, are just "flying warehouses."
Analysts reckon Atlas' formula will triple sales over the next three years, even as operating margins remain strong. Stricter noise regulations and a likely decline in air-cargo shipping by passenger airlines should benefit Atlas' young fleet.
GLOBE-TROTTER. Selling shipping services to clients around the world comes naturally to Chowdry, who had lived on three continents before he was 20. After leaving war-torn Lahore, Pakistan, he moved to London at age 15 and then to the U.S., where he learned how to fly. By the early '80s, Chowdry was in business, trading landing and take-off rights at major airports. After founding a commuter airline, and doing some buying and selling of planes, Chowdry took the $4.2 million he pocketed on one deal and launched a plane-leasing company that was the precursor to Atlas.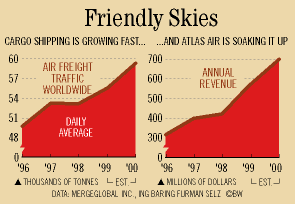 Having built Atlas to a power in cargo, Chowdry, who is chairman, CEO, and president, faces new challenges. Pilots are threatening to unionize. And Chowdry, who owns 59% of the company, is stretched thin, traveling some 220 days a year to meet with clients in Asia and Europe. But giving up control to a strong No. 2 could be tough for Chowdry, who gets his kicks flying acrobatics in his Czech L-39 fighter jet at near supersonic speeds over the Rockies. He relishes flying "because it requires complete focus and attention, as in business," he says. So far, at Atlas that focus has been dead-on.
Before it's here, it's on the Bloomberg Terminal.
LEARN MORE