Trouble For A High Tech Visionary...And For A City's Software Grads
Sethuraman Dinakar
It was a classic Naidu moment. As Srini Raju, executive director of Satyam Computers, tells it, he and Scott Bayman, head of GE India, were ushered last December into the office of Nara Chandrababu Naidu, the chief minister of Andhra Pradesh state. Naidu stood up to receive them and politely addressed Bayman as "Sir," adding: "Get us jobs to this state, Sir, and I will do whatever you want." Bayman looked pleasantly surprised--such pliancy toward business being rare among India's politicians.
Naidu certainly knows how to woo foreigners. His pro-reform outlook and success in hyping the high-tech potential of Hyderabad, Andhra Pradesh's capital, have put this most backward of states on the global map. But the charm may be wearing off at home, threatening his chances in November's state vote for chief minister. His Telugu Desham party lost ground to the Congress Party in a parliamentary vote last year, and in March, he was forced to drop his ballyhooed plan to computerize and network all the government offices in the state. "Naidu is popular with Western investors but is losing ground in his home state," says K.R. Acharya, a retired professor of political science at Osmania University in Hyderabad.
Were Naidu to fall, his dream of turning Hyderabad into a cyber-metropolis by 2020 could fall with him. On the other hand, "if Naidu survives for one more term, the whole picture changes. It takes five to eight years for info-tech development to be irreversible," says Abhirama Krishna, regional head of NIIT, India's premier computer training institute.
Certainly, Naidu has reforms to show off. He has pleased the World Bank by slashing subsidies on rice, transport, and electricity and by raising tax revenues. And then there's Hitec City, an almost complete 10-story tower built in just 15 months on 62 hectares outside the city. It offers 55,000 square meters of office space and already houses such tenants as Microsoft Inc. and Oracle Inc. "Seventy percent of our space has been taken," says Hari Haran, deputy general manager of L&T Infocity Ltd., the company building Hitec City.
But Naidu's government has borrowed heavily to fund its reforms. From 1994 to '97, total outstanding debt and the fiscal deficit quadrupled, according to the World Bank. Sanjaya Baru, an economist with ICRIER, a think tank, terms the state's fiscal situation "parlous." And while Hyderabad's infrastructure has improved greatly, the city is still plagued by water and power shortages, traffic jams, and a shaky phone system that makes Internet connections infuriatingly slow.
ABOUT-FACE. Naidu's reforms also may be alienating the common man. Higher rice and bus prices have angered villagers, and potable water, sanitation, and schooling are still issues in many parts of the state. So as the vote approaches, Naidu is wooing the masses. "The key is to get reelected, or we will go back 20 years," he says. He spared farmers a power-tariff hike in January and dropped the networking project to appease unions worried about job losses. The question is: Will voters be as easily charmed as Bayman?
When Arun Puliyendra did an SAP software course at one of the institutes that have mushroomed in Hyderabad, he expected to emerge and command a $50,000 salary in the U.S. It didn't happen. The American embassy, highly skeptical of Hyderabad software professionals nowadays, rejected his visa application. Puliyendra couldn't find a job on his own because under his agreement with the institute, he would have to pay them $15,000 if he did so. He's still waiting for the institute to find him a job overseas--and collect its commission.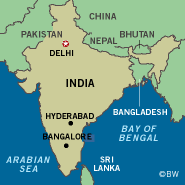 Hyderabad is full of men like Arun, fresh from one of the 300 institutes offering computer training in the state. Many of them say the institutes falsify their resumes to show nonexistent work experience. Foreign companies have now started sending back workers with suspect credentials. "Software training has become a money-making racket in this state," says Satyam's Raju, though he adds that Naidu recently asked the Software Technology Park, a government body, to help students evaluate the institutes. For Hyderabad, it seems, it's a long road to high-tech heaven.
Before it's here, it's on the Bloomberg Terminal.
LEARN MORE