The Sizzle Is Out Of Sap
Its Net stumble threatens the software giant's star status
by
Last autumn, Germany's $5 billion software powerhouse, SAP, was growing at an explosive annual rate of 47% and combing the high-tech world for 6,500 new hires. SAP wanted to reposition its massive enterprise systems, which run everything from accounting to purchasing for big corporations throughout the world, as key channels for buying and selling on the Internet. The goal: to double sales in the next three years and generate as much as 60% of this growth from new products, many of them Web-based. "Our customers want to be connected to everybody," Co-chairman Hasso Plattner told BUSINESS WEEK.
Less than six months later, however, Plattner and Co-chairman Henning Kagermann are running into snags. SAP, along with its competitors, is suffering from slower sales as companies delay new software purchases until next year, when the dreaded Y2K computer problem is behind them. SAP warned in late March that first-quarter sales growth would come in lower than the expected 20% to 25%, less than half of last year's rate. More worrying, SAP's new generation of products designed to link its corporate customers to each other and to their suppliers and customers via the Internet is trickling into the marketplace more slowly than anticipated. As a result, SAP's stock is mired at less than half of its 1998 high (chart).
SAP's challenge is to move quickly to market with Internet-linked and E-commerce products that are easy for all kinds of customers--not just tech whizzes at big companies--to use. "They have to reinvent themselves," says Laurent Lachel of British tech consultancy Ovum Ltd. SAP sustained extraordinary growth through most of the 1990s by selling complex software to corporate info-tech departments, from Bayer to IBM. Now, these companies are eager to extend their networks far beyond corporate walls, trading information with suppliers, customers, and Web shoppers. This means SAP must become as user-friendly as Amazon.com Inc. SAP's new logo features the word "Enjoy," with the Y stretching down to create a smile, and adds: "The software that works the way I do."
Yet SAP is behind on the Web because years ago its top executives made a bet that customers would prefer to build their own systems for sharing data with customers and suppliers. "We originally had a business-to-business model in mind [for E-commerce]," says Plattner. "Now, we see it has to be more open." So SAP is offering Web-linked products, such as its new supply-chain management system, which lets companies and their supplier networks share information on inventory, shipping, and prices simultaneously. Other products in the works will help companies automate sales. But rivals such as Siebel Systems and Trilogy Development Corp. are still ahead of SAP in this game--and fill most of the orders.
DANCING ELEPHANT? Meanwhile, SAP's new products are getting mixed reviews. Its supply-chain system lacks zippy features offered by rivals, analysts say, so customers are waiting for improvements before buying. And many of SAP's sales systems are still in the labs. "Despite press releases embracing the concept of E-commerce," argues William J. Farrell, analyst at Morgan Stanley Dean Witter, "we believe SAP doesn't have much to offer." Farrell downgraded SAP stock from "outperform" to "neutral" after the company disclosed slow first-quarter sales on Mar. 25.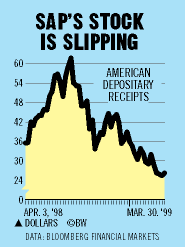 SAP faces technical and personnel hurdles as well. One-third of its staff joined the company less than a year ago. Yet from its headquarters in Walldorf to the labs in Silicon Valley, new teams must put together a dizzying variety of offerings. "We've got to get these new workers efficient," says Kagermann. Adds Andrew M. Dailey, vice-president for marketing at rival Baan Co.: "They've got to get an elephant to dance."
Still, SAP has room to maneuver. It continues to have a hammerlock on its core market of enterprise-software programming. Of the top 20 companies in that sector, SAP earned $627 million last year, while the other 19, led by less profitable Oracle Corp. and PeopleSoft, lost $140 million. With its list of blue-chip customers, SAP is strong enough to pick up market share in its core business. The huge growth, though, will be in E-commerce. To remain Europe's software superstar, SAP must learn to ride the E-commerce wave.
Before it's here, it's on the Bloomberg Terminal.
LEARN MORE