Did Skytel Get A Neighborly Bid?
by
SkyTel (SKYT), which pioneered wireless messaging, is itself receiving a message: It may possibly have had a buyout feeler from MCI WorldCom, which, like SkyTel, is headquartered in Jackson, Miss.
That's the buzz from some money managers who have been accumulating SkyTel shares--which have been on the skids since Feb. 5. That's when the company reported that the growth of its Internet subscriber roster wasn't measuring up to expectations. The stock is at 16, down from 28 9/16 on Feb. 5. In a buyout, SkyTel could command 30, say analysts. Speculation is MCI WorldCom isn't the only suitor. Another telecom biggie is also said to be after SkyTel.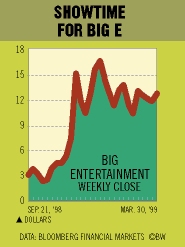 Carolyn Luther Trabucco, an analyst at First Union Capital Markets, says: "Potential is there for SkyTel to be a takeover target"--as it moves toward profitability. SkyTel's assets and its sophisticated technology, she says, dovetail with those of MCI WorldCom and other large telecom companies and Internet service providers.
Trabucco said that she wasn't aware of any offers for SkyTel--but wouldn't be surprised if one popped up. SkyTel is the most technologically sophisticated, she notes, and management is "one of the best in the industry."
SkyTel posted record earnings (before payment of interest and taxes) in 1998. She sees earnings of 56 cents a share in 1999 and $1.19 in 2000. She figures the stock is worth 23 to 30. SkyTel spokesman Marc Kuykendall says that as a matter of policy the company does not comment on M&A rumors. A MCI WorldCom spokeswoman declined to comment.
Before it's here, it's on the Bloomberg Terminal.
LEARN MORE