A Boffo Web Site For Movie Lovers
by
When Big Entertainment (BIGE) was highlighted in this column on Dec. 15, 1997, it was a small outfit: bold plans, no earnings. Shares traded at 6. Today, it's a Net player, and the stock is at 12, having hit 21 on Nov. 30. It has drawn as investors Times Mirror, with a 20% stake, and Gannett, with 7%.
Big Entertainment runs a Web site, bige.com, which sells movie gear such as Star Wars memorabilia. Big E plans to meld the site with hollywood.com, which it agreed to acquire from Times Mirror for $31 million. Hollywood.com provides schedules and reviews. Ultimately, Big E will spin off its Net operations and take it public.
"The combination will make it the leading destination for movie information and collectibles, with 50 million visitors a month," says Jan Loeb of Wasserstein Perella. Because of a five-year pact with the National Association of Theater Owners, Hollywood.com is the exclusive online movie site advertised in more than 75% of the nation's theaters.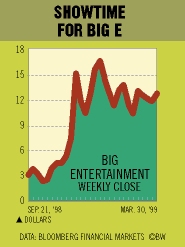 Bige.com, which operates an online auction focused on pop-culture products, is also available at other popular sites, including broadcast.com,
excite.com, Time Warner's Road Runner, and usatoday.com. Loeb figures that bige.com and hollywood.com combined could be worth 27 a share. He estimates that Big E's Internet business is worth $300 million, based on 10 times his gross profit estimate of $21.5 million. And its Net content business, he adds, is worth a further $100 million.
One added fillip: Big E has agreed to acquire the assets of CinemaSource, the largest provider of movie listings to the Internet. Net portals that obtain listings from CinemaSource include Yahoo!, MSN, and Excite.
Before it's here, it's on the Bloomberg Terminal.
LEARN MORE