The Debt That's Dragging Nissan Downhill
It's worse than it looked, and a Renault deal may not help
by
It was a startling confession. On Mar. 18, Nissan Motor Co. Chairman Yoshifumi Tsuji admitted that management's mishandling of its heavy debts drove Japan's No. 2 auto maker into desperate straits. Immediately, rumors started that he will resign to take responsibility. But his mea culpa is prompting far more worrisome questions: How much is Nissan's debt load, exactly? And if Nissan mishandled its debt, how many other marquee Japanese companies did the same?
The actual state of Nissan's debt will loom large in how investors assess the potential of an alliance between the beleaguered Japanese auto maker and its would-be rescuer, France's Renault. Nissan's board is scheduled to decide on Mar. 27. Nissan won't reveal details, but the debt figure it often quotes for its automotive business is about $21 billion--or about 2.5 times equity.
Yet there's plenty more debt lurking in odd corners. Nissan's financing and credit subsidiaries have racked up $15 billion. Also, the problems of troubled dealers, parts suppliers, and vehicle assemblers may become Nissan's own soon. Starting in April, 2000, Japanese companies will have to consolidate the debts of companies in which they hold a 40% stake, as opposed to 50% now. Besides, Nissan may have to swallow an estimated $4 billion in debt weighing down its affiliates Nissan Diesel Motor and Nissan Diesel Motor Sales Co.
BAD HABIT. Nissan's big losses make it tougher for the company to service its own debt obligations while helping troubled affiliates. Schroders Japan Ltd. estimates that Nissan Motor must fork over $847 million in interest payments every year. And Schroders figures the recent downgrading of Nissan debt to junk status by international credit agencies will increase the payments by as much as $254 million this year. "Nissan's ability to service the debt has weakened," says Takahiro Morita, auto analyst at Moody's Investors Service in Tokyo.
Friendly banks--especially ones inside the Fuyo group, Nissan's keiretsu--were always ready to roll over debts and extend fresh credits. Now, they're becoming picky. "Until a few years ago, holding large liabilities with interest in Japan was not necessarily viewed as a problem," says Nissan's Tsuji.
It's a problem now. Nissan is running out of financiers willing to feed its debt habit. So it has sold prize assets at bargain prices, ranging from a finance subsidiary in Australia, bought by General Electric Capital Services Inc., to its swank Tokyo headquarters, snapped up by the Mori Building Co. And, of course, it expects to raise up to $6 billion by selling a 35% stake in itself to Renault, in addition to possibly 22% of its ailing truck affiliate, Nissan Diesel Motor Co.
Yet Nissan shares are under pressure, indicating how merciless investors may be with other Japanese companies whose heavy debts become apparent when the new accounting rules click in next year. Toshiba Corp., for instance, has debt equal to 1.9 times equity already. And, like Nissan and others, it hasn't fully consolidated all the debts buried in its affiliates' and subsidiaries' balance sheets over the years.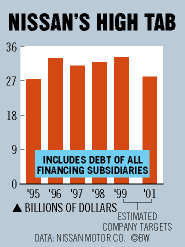 Even Renault's billions might not give protection from future shocks. For starters, Nissan's debt reduction may not be aggressive enough. Nissan has pledged to reduce its debt by $3 billion by the end of March, and by $5 billion more by March, 2001, through more asset sales and cutting inventory. If it had to, analysts figure, Nissan could raise an additional $25 billion--by selling more stock, land, its European operations, and its finance and credit operations in North America and Japan. "The debt problem can be solved," concurs Chikao Masuzawa, automotive analyst at ING Baring Securities (Japan) Ltd.
The bigger issue is whether Nissan can make profits even after a debt workout, given its lackluster model lineup. Japan's No. 3 carmaker, Honda Motor Co., for example, expects to spend $800 million more than Nissan on R&D this year. If Nissan pays down debt with all the cash it gets from Renault, it still won't match Honda's flood of hit products anytime soon. Debt is smothering Nissan. And cash alone from Renault may not save it.
Before it's here, it's on the Bloomberg Terminal.
LEARN MORE