Telescan Tracks A Big Trade
By
On Mar. 23, when Internet stocks came tumbling down and the Dow Jones industrial average lost more than 218 points, one online service company--Telescan (TSCN)--went the other way: Its stock jumped 11/16, to 13 15/16. The next day, it shot to 15 1/4. Some pros think the move presages more big upticks ahead.
Telescan, which provides investment analysis, data retrieval, and Internet services to businesses and individuals, plans soon to provide E-trade services, as well. Telescan has bought a minority stake in Trading Technologies, a privately held software company that is developing a stock-trading system for Telescan. The company says that it's the first in a series of advanced trading tools that Telescan will offer on its Wall Street City financial Web site.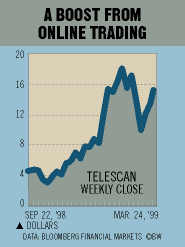 "Online trading will be a significant addition to Telescan's services and make it a more powerful Internet tool," says Tim Stobaugh of Stonegate Securities in Dallas. Telescan has an impressive list of stakeholders: General Electric owns 9.9%, Microsoft co-founder Paul Allen has about 11%, and Ameritrade holds a 4.8% stake. Telescan has licensed its Internet financial analysis technology to NBC for its personal-finance Web site, CNBC.com. Telescan will develop investment analytics and provide financial data and hosting services for the NBC site. It also has licensing agreements with American Express and Citigroup. Telescan, which has been in the red, should earn 30 cents a share in 1999 and 50 cents in 2000, says Stobaugh.