When shares of PolyMedica (PLMD), trading at 11 1/2 in early November, weakened in recent weeks and hit 5 on Mar. 23, medical analyst Sharon di Stefano of Ryan Beck, an investment firm in Livingston, N.J., contacted not only management but large PolyMedica shareholders to find out why the stock had crashed. She found no fundamental reason to justify the fall. "They weren't selling, and they may in fact be buyers at these levels," says di Stefano. The stock edged up to 6 1/16 the next day.
PolyMedica, which makes monitors for diabetic patients, is trading at an "extremely low p-e that doesn't reflect PolyMedica's revenue growth prospects and its two-year earnings growth rate of 30% a year," notes di Stefano.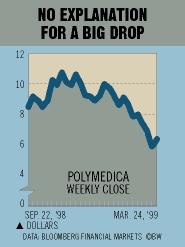 Ryan Rauch of CIBC Oppenheimer says PolyMedica's valuation is "compelling," based on his profit estimate of 76 cents a share for 1999--and its prospect for a buyout. He says PolyMedica is a "prime acquisition target for companies looking to enhance their direct-to-consumer marketing efforts." He thinks it is worth 20 in a buyout.
PolyMedica's Liberty Medical Supply unit is the largest direct-mail provider of diabetes-monitor supplies to senior citizens covered by Medicare. It serves more than 80,000 U.S. patients. That's expected to rise when PolyMedica augments its mail-order system with a planned online marketing system. Liberty has the largest proprietary database of diabetic patients, with more than 450,000 names. This is extremely valuable, says Rauch, as it will enable PolyMedica to expand on the Net and cross-sell products for other diseases.
Before it's here, it's on the Bloomberg Terminal.
LEARN MORE