Making A Play For Christian Pilgrims
For years, Jordan has gazed longingly at the million or so Christian visitors who, each year, flock to holy places in Israel, just across the Jordan River. Jordan is also home to many important Biblical sites--more than 150 of them. They include Lot's Cave; Mt. Nebo, where Moses died; and Elijah's Hill, from which the prophet ascended into heaven in a fiery whirlwind. But Jordan's sites attract only a fraction of the number of pilgrims that Israel attracts: a paltry 100,000 annually.
Now, Jordan says that new research shows it to be the home of one of Christendom's most important sites--the spot where Jesus was baptized by John the Baptist. If correct, the discovery could bring a tourism bonanza. Scholars who are part of a Royal Commission set up by the late King Hussein to study the site claim Jesus was baptized on their side of the Jordan River, at Bethany (not to be confused with the Bethany near Jerusalem, where Lazarus was raised from the dead). Independent archaeological research seems to back them up. Others, such as Dr. Barry J. Beitzel, author of The Moody Atlas of Bible Lands, a leading conservative Christian resource on the location of Biblical places, agree.
"AUTHENTIC SITE." If tourism is going to boom, however, Jordanians must convince Western Christians that they are right. Most Christians believe the baptism took place at Yardenit, in Israel, where the Jordan River leaves Lake Tiberias, partly because Israel has promoted the site for decades. Some 400,000 visitors a year flock to Yardenit, spending generously in the sprawling gift shop and restaurants, says Yardenit's tourism and sales manager Sergio Boklis. The gift shop offers a dizzying array of T-shirts, religious jewelry, books, Legendary Holy Land Date Honey, and even wine for communion.
To compete with Yardenit, Jordan is building a $5 million Park of the Baptism of Christ on a rocky mound rising above a green valley beside the Jordan River near Bethany. Officials stress they will retain the integrity of this place. "We have an authentic site for pilgrims, and we don't want that destroyed by commercializing it," says Aqel Biltaji, Jordan's Tourism & Antiquities Minister. So, for example, the park will not contain a huge gift shop. At most, there will be a government-run rest house and maybe a few venders' stalls some distance from the site. Jordan will make money from entry fees and by encouraging tourists to extend their stays and to visit the country's other attractions.
Jordan plans to open the park before yearend to take advantage of the millennium, which is expected to draw huge crowds to the Holy Lands. "In faith toward the next millennium" is Jordan's 2000 tourism slogan. The country is adding 5,000 hotel rooms, bringing the total to 17,000. Most are in Amman, 40 kilometers from Bethany, which has only fields and farms nearby. Tour operators are offering group packages, and Jordan expects to at least double the number of pilgrims next year, to 200,000, about 10% of the 2 million tourists expected. One attraction will be baptism in an ancient church pool near where Jesus may have been baptized.
Today, scores of workers in red-and-white-checked head scarves are excavating Bethany's sites. The digging, which began 18 months ago, has unearthed the outlines of churches, deep rock-hewn wells and cisterns, and complex routes of water channels dating to the Roman era. Construction of park facilities, including a visitor center, should be completed later this year.
CHURCHES AND POOLS. Not all visitors want to follow literally in Jesus' dusty footsteps, so Jordan is spending $2 million to pave roads leading to Bethany. It's also looking for ways to move groups from site to site without stirring up dust that would endanger ruins, the way Egypt's desert sands have eroded the face of the sphinx. Most of the existing roads were built for defense purposes after the Six-Day War with Israel in 1967. The area has only recently been cleared of land mines, and there are two army observation towers 300 meters from the main excavations.
Jordan has already begun promoting Bethany as a tourist attraction, even sending a promotional team to the annual convention of the National Religious Broadcasters in Nashville in February. The site got a huge boost in late February when the Catholic Church put it on a list of five official pilgrimage sites in Jordan for 2000, the imprimatur of Catholic authenticity. Still, Jordan's puny $2.3 million promotional budget makes it tough to compete with Israel, which spends $40 million. Israel is advertising itself in the Christian market in the U.S. as the millennium's best Christian destination, and Yardenit is adding three areas for group baptisms.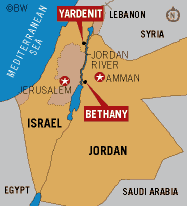 While Israel isn't about to concede the baptismal location to Jordan, the Bible, archaeology, and history make a strong case for the Jordanian site. Rami Khouri, a local expert who is writing a book on Jordan's Biblical sites, says the evidence makes it clear that the baptismal site "was in this area, on this side of the river." He points to excavations that reveal a settlement dating to the 1st century, including seven churches within two and a half kilometers of the river. Pools in the churches apparently were used for baptisms. A traveler named Theodosius mentions a church within 90 meters of the river's edge, built at the end of the 5th century by the Emperor Anastasius in memory of John the Baptist. And Byzantine pilgrimages stopped here en route from Jerusalem to Mt. Nebo.
Jordan's claims sound plausible, although there's no certainty that Bethany--or Yardenit, for that matter--was the baptismal site. Unless such proof emerges, Christians must accept the location mostly as a matter of faith.
Before it's here, it's on the Bloomberg Terminal.
LEARN MORE