Israel: Growth Slows To A Creep
Neal Sandler
A larger-than-expected decline in prices is pumping up concerns that Israel's slide has yet to bottom out. The consumer price index fell by 0.8% in February, after a 0.3% decline in January (chart). Prices were down across the board, with particular weakness in housing costs.
Despite the recent CPI declines, however, the Bank of Israel remains hawkish on inflation, because a devaluation of the shekel in 1998 means that prices are still rising at a 7% annual rate. As a result, the BOI is maintaining a comparatively tight monetary policy even in the face of a steep slowing in the economy. On Feb. 23, the central bank cut its discount rate by one-half percentage point, to a still-high 13%. And BOI Governor Jacob A. Frenkel is not expected to give in to pressure from the government to cut rates in full-point increments.
Analysts say Frenkel's intransigence is caused by the central bank's dilemma. Too rapid a cut could lead to a weaker shekel and higher inflation, but high interest rates are choking off growth. Real gross domestic product grew by only 2% last year, more slowly than Israel's rise in population, and it is a far cry from the 6%-to-7% average rise in Israeli GDP in the early and middle '90s.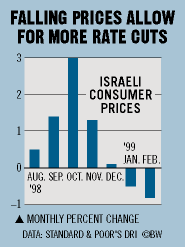 Experts say that the tight monetary and fiscAl policies of the past two years, combined with the lack of progress in the Middle East peace process, have led to the sharp drop in growth. Only the country's high-tech sector has been immune to the slowdown. The downturn has led to a draMatic improvement in Israel's balance-of-payments deficit, which was halved to $2.3 billion. But unemployment has risen steadily in the past two years and hit 8.6% in January.
So far, 1999 is shaping up to be a year of even slower growth. But with general elections less than two months away, the government and the Bank of Israel are unlikely to change course. Instead, the task of stimulating the economy will be a top priority for the government elected on May 17.
Before it's here, it's on the Bloomberg Terminal.
LEARN MORE