How Long Can Lycos Live In Limbo?
A takeover battle threatens to stall the Net portal's growth
Paul C. Judge
Three months is an eternity in Internet time. But Lycos Inc. will have to wait at least that long until regulators approve a shareholder vote on a takeover bid for the Web portal company. The choice for stockholders: Move ahead with the Feb. 9 offer to merge Lycos into USA Networks Inc., Barry Diller's media company, or follow the advice of David S. Wetherell, the CEO and chairman of CMGI Inc., Lycos' largest shareholder, and vote against it. Wetherell signed off on the Diller deal at a Feb. 7 Lycos board meeting, but he quickly developed seller's remorse as the company's shares fell and is actively lobbying against the offer, now valued at $3.8 billion.
It's turning into the first hostile struggle for control of an Internet company. Wetherell repudiated the USA deal on Mar. 9, quitting the Lycos board and declaring that CMGI would seek a higher bid. Sources close to the investment company say that potential bidders include America Online Inc. and National Broadcasting Co. AOL and NBC both declined comment.
WARY PARTNERS. Wetherell is unlikely to land another suitor until shareholders vote, however. That's because Diller negotiated--and Wetherell, as a director, approved--a provision granting him options to purchase up to 17.5% of Lycos at $127 a share. Investment bankers familiar with the USA Networks deal say Diller can exercise the options if Lycos receives any other offer before the deal goes to a vote.
Meanwhile, Diller is preparing his own campaign. Sources close to him say that he will try to undermine Wetherell's credibility, pointing to CMGI's sales of Lycos stock earlier this year at prices that were below the deal's current valuation of $89 a share.
But while Diller and Wetherell bob and weave, Lycos is in danger of falling behind. On the Net, the No. 1 rule is speed above all else--in forging new strategies or making deals. As long as Lycos is in limbo, potential buyers and sellers are likely to look elsewhere. And in the portals segment, continuous dealmaking is essential to add new reasons for customers to click on. "Lycos is twisting in the wind while Go, Excite, Yahoo!, and others continue to make progress," says Chris Charron, an analyst with Forrester Research Inc.
Uncertainty about Lycos' fate could also affect its current business. The company depends on ties to 11 sites it has acquired, such as Web community builder Tripod Inc. Those companies are still run by Internet entrepreneurs who want their partner to keep moving. "If these external wars become internal, it could wreak real havoc at Lycos," says Ford Cavallari, co-director of the Internet practice at consultant Renaissance Worldwide Inc.
So far, Lycos seems not to have lost ground. Since the USA Networks deal was announced, it has unveiled 12 more partnerships, including one with WebMD Inc. The Atlanta-based company is paying $52 million to be Lycos' exclusive health-care site. The agreement includes promotional spots on USA Networks. "It's proof of what the power of this transaction could be," says Robert J. Davis, Lycos' president and CEO, who favors the USA Networks deal.
As time drags on, though, partners like WebMD could be harder to land. In the meantime, competitors continue to line up new dance partners. Infoseek's Go Network, for example, has a $100 million promotional deal with MBNA Inc. and MCI WorldCom is tapping AOL'S Digital City to provide local content for its Internet service.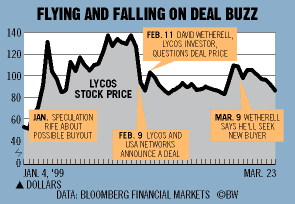 Lycos executives remain bullish. They cite solid gains in traffic--up 39% quarter-over-quarter for the three months ended Jan. 31--and a 24% rise in revenues, to $30.6 million, during the same period. Most analysts are sticking with their forecasts of $32 million in revenue for the current quarter. But "we don't want to see Lycos standing still," says Paul Noglows, an analyst with Hambrecht & Quist LLC.
Diller is convinced that shareholders will approve the deal. And Wetherell believes that other buyers will materialize. "They simply cannot be accepted by Lycos' board until the USA deal is voted down," he told BUSINESS WEEK via E-mail. Wetherell dismisses the idea that his fight with Diller could somehow harm Lycos. Only Internet time will tell.
Before it's here, it's on the Bloomberg Terminal.
LEARN MORE