A Fresh Chauffeur For Ford's Luxury Cars
Can Wolfgang Reitzle work his BMW magic on the new brands?
by
Ford Motor CEO Jacques A. Nasser wasted little time going after former BMW car czar Wolfgang Reitzle. Just a week after Reitzle resigned as BMW's No. 2 executive in a Feb. 5 boardroom shake-up, Nasser was in Germany wooing his "old friend." And on Mar. 19, Reitzle agreed to become head of Ford's new Premier Automotive Group, driving four luxury brands--Jaguar, Volvo, Aston Martin, and Lincoln. "If Wolfgang Reitzle didn't exist, we would have had to invent him," quips Nasser.
Ford certainly needs a luxury-car specialist. It just spent $6.5 billion to snag Volvo Cars, and Nasser has set an ambitious goal to quadruple luxury sales to one million units by 2004. The high-profit sector, which has grown 40% in the U.S. since 1993 and is expected to expand an additional 17% by 2008, could do a lot for Ford's bottom line. Ford now depends on beefy pickup trucks and sport-utilities for more than two-thirds of profits; its passenger cars generate scant earnings. Nasser wants to become a player in the rarefied space occupied by BMW, Mercedes-Benz, Lexus, and Audi--a market where, analysts say, gross margins per car run between $15,000 and $20,000.
Reitzle, 50, is the perfect man for such a formidable job, says Nasser. He cuts a dashing figure with his Errol Flynn moustache and TV-star girlfriend. A wunderkind at BMW, he brought a mix of flair and high-octane energy to the task of upgrading BMWs so they actually lived up to their vaunted image as the "ultimate driving machine."
Reitzle appears undaunted by his new challenge--taking on Ford's disparate luxury brands. "To play around with the possibilities of the Ford world is wonderful," he says. "I know how to handle luxury products in a systematic way, how to protect them, fine-tune them, sell them, and treat them. That is the essence of my mission."
Ford's luxury brands could use the tune-up. During much of the '90s, Ford struggled with quality and image problems at Jaguar and Lincoln while affluent baby boomers embraced German and Japanese luxury cars. Jaguar, bought for $2.5 billion in 1989, required a $5 billion overhaul to eradicate bugs that were a notorious character flaw. Lincoln's sales surged 12% last year, thanks to the $45,000 Navigator sport-utility vehicle. But most boomers still view the chrome-encrusted Lincoln Town Car as granddad's boulevard cruiser. Aston, with prices starting at $130,000, caters to the super-rich. But Volvo, which sells 56% of its cars to buyers aged 34 to 53, finally gives Ford a legitimate lure for upscale boomers.
How to make sense of all this? First, Reitzle must move Jaguar down from the exclusive over-$60,000 range to the broader market of well-heeled suburbanites who favor BMW, Mercedes, and Lexus. In April, the S-type, a $42,500 sedan with vintage Jag styling, arrives in showrooms. In 2001, Reitzle will oversee Jaguar's introduction of a $30,000 "Baby Jag." Jag might even get a refined sport-ute, sources say.
SHARED PLATFORMS. At Lincoln, Reitzle will shepherd the aging brand's first foray into the sports-sedan segment with the $30,000 LS this summer. That car, which boasts European looks, is a cousin of the S-type. Analysts also expect platform-sharing on future Volvo models, including a sport-utility and minivan.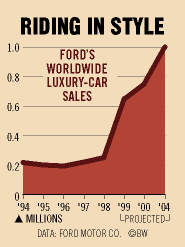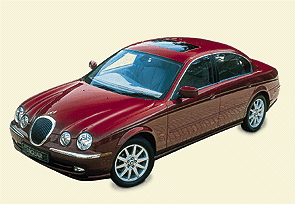 The risk is that Ford will wind up creating a traffic jam among its luxury brands. As Jaguar moves down and Lincoln moves up, both bump into Volvo. "Ford's luxury buyers start looking a lot more alike over the next 10 years," warns auto consultant Susan Jacobs of Jacobs & Associates.
As he tries to pick the right path for all these brands, Reitzle says, he doesn't mind stirring things up. In fact, Nasser sold him on the job partly by assuring him that the boss welcomes creative clashes. "There can be a fight if it's ideas that compete," he says. "I love this." The tougher battle may be trying to pry boomers out of their Beemers and Benzes.
Before it's here, it's on the Bloomberg Terminal.
LEARN MORE