A Face Lift Has Lima's Center Shining...But Politics Is Getting In The Way
Horse-and-buggy driver Juan Manuel Arguedas doesn't get much time for a breather these days. Since work to make over the old city center of Lima began four years ago, the line of people waiting to pay less than $1 for the horse-drawn trip round the main square, the Plaza de Armas, has grown. There's a smattering of foreign tourists and provincial visitors but, he says, "a great number are from Lima itself."
A few years ago, not many residents of this city of 7.3 million would have considered a trip to stifling central Lima for pleasure. The streets were snarled with smoke-belching buses. The wares of ambulantes, or street traders, carpeted the pavement. The rich had moved out, and a stream of poor migrants had arrived in their place, cramming into grand old buildings.
WELL SPENT. But now, ending decades of neglect, the transformation is leaving Limenos openmouthed at their own capital. It began after Mayor Alberto Andrade took office in early 1996, having pledged to do the same for el centro as he did for the upscale Miraflores district during two terms as mayor there. The work so far has cost about $20 million, mostly funded by City Hall. It appears to be money well spent: The Plaza de Armas, for example, looks splendid with its pristine flower beds and impressive, newly painted public buildings. "No one thought the recovery of the center was possible," says Marco Zileri, an editor at news magazine Caretas. When most other businesses moved away, the Zileri family magazine bought offices in the Plaza de Armas. Now, property prices are rising.
The sparkling main square may be the symbol of change, but the spread of renovation work to other neglected areas has been more crucial in revitalizing the kernel of 40 city center blocks, which in 1991 were declared a World Heritage Site by UNESCO. Andrade's government has rehabilitated and painted several other plazas, the Parque Universitaria, and Chinatown. Traffic has been restricted and buses barred. After some ugly pitched battles in 1997 and '98 between police and the ambulantes, all but a handful of the 4,000 traders are gone.
ProLima, the municipal body heading up the refurbishment, has asked private business for help. Raul Zamalloa, head of building rehabilitation at ProLima, offers companies the chance to "adopt" Lima's famous but run-down wooden "box" balconies. The price tag for adopting one of the 300 balconies cataloged so far runs from $3,500 to $55,000. With help from such sponsors as Banco de Credito and supermarket Santa Isabel, 80 have been renovated.
But cleaning up buildings isn't enough, says Zamalloa: "The city can't be a museum. It has to be a place where life goes on." So City Hall is sponsoring a program of dance festivals, theater, and music to attract visitors to el centro even at night, in a bid to overcome fears that linger from the terrorism of the late 1980s and early 1990s. It may help, of course, that the events take place under the watchful eyes of riot policemen carrying heavy plastic shields.
On the balcony of City Hall, the barrel of an antique cannon points cheekily at a neighbor, the Government Palace, official seat of President Alberto Fujimori. During excavations in the Plaza de Armas to prepare for renovations, workers dug up the 19th century cannon. Mayor Andrade ordered it mounted on the balcony.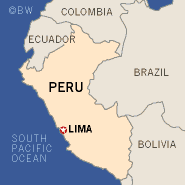 There's no love lost between the two leaders. Since Andrade was elected in 1995, he says, Fujimori's government "has created the maximum number of obstacles possible." Andrade claims national police failed to back his moves to evict street traders, and the Economy Ministry has effectively blocked a City Hall request to the Inter-American Development Bank for a $180 million loan for a roads project. Politics may be to blame: It is widely believed that Andrade will run for President in 2000, and Fujimori is expected to try for a third term. In mid-March, market-research firm Apoyo put Andrade's support at 31%, three points ahead of Fujimori. The mayor's success in transforming central Lima would be his strongest campaign card. But Fujimori backers point out that most opinion polls, including Apoyo's, are carried out in Lima--and Limenos make up only a third of the national vote. So Andrade may just need that cannon.
Before it's here, it's on the Bloomberg Terminal.
LEARN MORE