Tokyo's Bulls May Soon Run Out Of Breath
Government bailouts have the market roaring--for now
by
Is it just a blip, or is it for real? That's what global investors wonder after the torrid 17.5% runup in the Nikkei stock index to around 16,300 so far this year. After a nightmarish decade, maybe, just maybe, the scent of fast money has returned to the Tokyo Stock Exchange. Morgan Stanley Dean Witter equity guru Barton Biggs thinks so: He sees an additional 10% jump, to 18,000 by yearend.
Well, don't bet the kid's college savings on it. True, this market turn, which bests the 8% gain on Wall Street, feels different from the string of illusory rallies since 1992. The Nikkei typically jumps at this time of year as Japan Inc. closes its books on the Mar. 31 fiscal yearend. In years past, officialdom has talked up the market, or more crudely rigged it by government purchases of shares, to prevent banks and companies from having to take big losses on their massive shareholdings of each other.
Then, just as the cherry blossoms started to bloom in April, the market would wilt once it became clear the economy and profits were going nowhere. Now, foreign money managers, who pumped $5 billion into Japanese equities in February alone, are betting that growth has picked up after falling for five straight quarters.
SCRAMBLING. What do they see? A flurry of corporate restructuring, an ultra-loose monetary policy, and a historic government spending drive to fix the banks and kick-start the broader economy. Add it all up, and "right now, foreign investors are panicking about being underweight in Japan," says Gary Evans, equity strategist at HSBC Securities Inc. With Japan a slim 5% of most global portfolios, money pros want a hedge in case pricey Wall Street and uncertain European markets plunge.
Trouble is, they could soon find themselves scrambling for the exits in Tokyo. Sure, Sony Corp., Japan Airlines, and other blue chips have unveiled credible makeover plans lately. But Evans thinks some 180 big companies that HSBC tracks haven't gone far enough. Consider the banks. Even with a $65 billion government cash infusion into the biggest lenders now under way, plus more to come next year, ING Barings analyst James Fiorillo figures it will take them five years to right themselves and generate decent profits.
And today's bullishness is sure to be tested during the results season in May. Overall earnings are expected to fall an average 20%, while Tokyo's top 15 banks are expected to report $27 billion in losses--scarcely the stuff of bull markets.
What's more, huge swathes of the economy are basically on government life support. It's not just the banks. A big chunk of a record $200 billion program announced by Prime Minister Keizo Obuchi's government last fall is a thinly veiled subsidy for Japan's over-crowded construction sector. Both the Bank of Japan and the Ministry of Finance are propping up companies with commercial paper purchases and government loans.
For now, that has brought down corporate failures from record levels and created a modest recovery in industrial production and consumer spending. But with Tokyo's big budget deficits, the game can't last forever. "We could see bankruptcies pick up again" in the coming year, says one U.S. fund manger.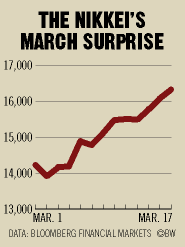 Beyond that, the yen has gained about 5% against the dollar, to 118, since early March. That's because Japanese banks unloaded about $8 billion worth of foreign bonds last month and brought yen home. But once their books are closed, the yen is expected to fall, maybe to as low as 140 by yearend, says Merrill Lynch & Co. senior economist Ronald Bevacqua. That would cut into foreign investors' returns in dollar terms. What's more, plenty of Japanese banks and companies want to dump their shares in each other, which could put selling pressure on the market.
All the same, the Nikkei has rebounded smartly from depressed levels. And both Japan Inc. and the government are clearly in crisis-management mode. That's all to the good, and maybe an economic recovery of sorts is really in the cards for next year. Between now and then, though, expect a roller-coaster ride for the Nikkei.
Before it's here, it's on the Bloomberg Terminal.
LEARN MORE