Scrambling For A Flight Plan
It's 9:30 a.m. at the airport in Rochester, N.Y., where Rod Hall and Stephen Okabayashi linger over a fast-food breakfast. After an hour or two, they opt for a change of scenery, toting luggage and laptops to a seat with a view of the tarmac. Just two more road warriors waiting for a flight, right? Wrong.
In fact, Okabayashi arrived in Rochester this morning from Philadelphia, Hall from Chicago. Consultants for Compass America Inc., they're in town for an afternoon meeting with a client. The Rochester terminal is clean and quiet, although it doesn't warrant half a day of loitering. But thanks to the vagaries of flight schedules, Hall and Okabayashi have no choice. When the conference is over, they'll wait hours more for flights home. Inconvenience is not the only toll: Okabayashi's round-trip hop from Philly sets his company back about $700; Hall's trip from Chicago was $1,100. Both men bought advance-purchase tickets on U.S. Airways Inc. flights. "There are just not many options," Okabayashi says with a shrug.
Rochester is a prime example of the smaller U.S. cities that are increasingly trapped in an aviation netherworld. With economies dependent on air transportation, but populations too small to justify airport hubs, these midsize urban centers are stuck with the worst of both worlds: mediocre service and high fares.
Once upon a time, such complaints came from rural America and were largely ignored, but now the cry is taken up by cities with enough political and economic clout to draw attention. Washington is taking notice. The Clinton Administration wants rules to protect small carriers from predatory pricing. A bill by Representative John D. Dingell (D-Mich.) would hit carriers with a $10,000 fine for every day they try to price a small competitor out of the market. That's hard to prove, however, and the bill is a long shot. Other efforts just scratch the surface of people's complaints with the nation's aviation system. No one seems to have a real answer to the problem.
So while Hall and Okabayashi kill time in the Rochester airport, U.S. Transportation Secretary Rodney E. Slater holds court downtown in the Rochester city library, where industry execs and politicos from across the country ponder what, if anything, should be done about the growing discontent. At one point, conference participants compare the cost of their trips to Rochester. Iowa Attorney General Tom Miller tops the rest: He paid $1,100 for a five-day-advance-purchase round-trip United Airlines Inc. ticket from Des Moines.
PACKAGE DEAL. Rochester executives aren't waiting for government action. After Robert J. Bartosiewicz, president of Community Graphics Inc., saw company airfare costs pass $500,000, a big chunk of his $6.5 million revenues, he approached other execs about setting up a corporate air service. Now, he's shopping for two Raytheon Co. turboprops. He wants to sign up 30 companies at $4,000 a month each for 30 round-trips to Baltimore-Washington International Airport, where fares are low thanks in part to budget carrier Southwest Airlines Co. "Our whole goal is to have a Southwest feeder of sorts, from Rochester to bwi, three times a day," Bartosiewicz says. By flying first to Baltimore, he can shave $600 off the $1,077 five-day advance fare to Chicago. Some 115 companies have asked about the project. Several have made the required three-year commitment. If all goes well, the Rochester Business Travel Club could take off in July. "This is very difficult to pull off. I'm not going to sugarcoat it," Bartosiewicz says.
Of course, the venture won't help nonmembers. The U.S. Transportation Dept. ranks Rochester's per-mile airfares the fourth-highest in the country (behind Richmond, Va., Charlotte, N.C., and Greensboro, N.C.), two to three times the average fares in hub cities, and sometimes more. Elliott M. Seiden, a Northwest Airlines Inc. vice-president, says such comparisons "use average price paid without regard to the different mix of passengers in different cities." One reason Rochester's fares are higher, he contends, is that Rochester passengers book more business fares. "People don't go to Rochester to take a lot of vacations. It's not Orlando," he says. On a per-mile basis, he adds, business-fare tickets from Rochester are consistent with those from other cities.
Maybe, but they're not cheap. A round-trip coach ticket to Detroit on Northwest or American Airlines, purchased either in advance or on the day of the flight, is about $700. (It drops to $200 with a Saturday night stay.) A trip to Albany or New York City is over $400; Washington, D.C. costs $600. Few if any of the fares get you on a real jet. Most run on commuter turboprops--no coffee, no magazines, no bathroom.
AVOIDANCE. This winter, Greensboro-based budget carrier Eastwind Airlines moved into Rochester with two new jets and a $49 fare to New York. Eight weeks later, after relentless price-cutting by the major airlines, Eastwind was forced from the market. Lack of advertising and poor scheduling also hurt the airline, says Terrance Slaybaugh, who runs the Greater Rochester International Airport.
Since 1990, Rochester's airfares have increased 25%, while the number of passengers has dropped 22%. High fares keep Kara Maloney from accompanying her husband on most out-of-town business trips. "I can't turn too many of these things down, or people will start thinking he doesn't have a wife," she frets.
Stay-at-homes like Maloney cost the airport $2.2 million annually in lost revenue, on an annual operating budget of $21 million. Slaybaugh has cut landing fees by 30% since 1997, in an effort to reduce ticket prices, and he has installed an office suite in the terminal for stranded travelers. But he worries that revenue from the six-year-old terminal won't be enough to support its debt.
That's a real concern, because companies are taking steps to avoid the airport altogether. When Eastman Kodak Co., which has been here since 1881, consolidated sales and marketing, it moved 100 jobs to Atlanta, which is a hub and has lower airfares.
Some residents, such as baby boomers Roger and Rose Linscott, say they may follow Kodak's example and leave Rochester for a hub city when they retire. Others balk at moving here. The University of Rochester Medical Center almost lost the chance to hire a top British academician after he learned his flight from London to New York cost less than his flight from New York to Rochester. The hospital had to promise to boost his travel budget.
Others reroute. Bill Blumsack, a salesman with Syndicated Ad Features Inc., flies from his home in Boston to Rochester via Washington. The trip takes all day, but it's cheaper, and the plane has a bathroom. Even Mayor William A. Johnson Jr. sometimes drives four hours to Toronto for low fares.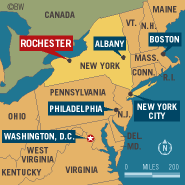 Demand for out-of-state road maps is at an all-time high, the American Automobile Assn. reports. When Robert J. Brinkman, president of C.J. Winter Machine Works Inc., and five of his salespeople paid a visit to Detroit in February, they piled into two cars and hit the road. Travel time: 6.5 hours. "The airfares would be astronomical with six people going to Detroit," he says. Now, after 70 years of doing business in Rochester, the company is considering a move south. "We have looked at North and South Carolina and some other places," Brinkman says. Raleigh-Durham, N.C., he points out, is a hub. It boasts low airfares. Unless Rochester can make the same claim one day, it could see other companies follow.
Before it's here, it's on the Bloomberg Terminal.
LEARN MORE