Lensmakers May Be Eyeing Cooper
By
Now that Cooper Cos. (COO) has shed its Hospital Group of America unit, analysts believe the company will be more appealing to investors, helping yank the stock out of its depression. But a big cause of its weakness is the pricing pressure in its contact-lens business, fed by fears that laser treatments will cut into the contacts market.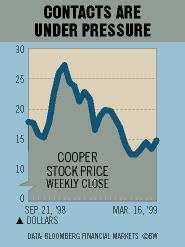 Cooper, which hit 28 in early November, is down to 14. "The stock is extraordinarily cheap," says Jeff Hershey of Awad Asset Management, part of Raymond James Financial, which owns nearly 5% of the stock. He thinks the recent drop makes Cooper vulnerable to a takeover by a larger lensmaker, such as Johnson & Johnson or Bausch & Lomb. Trading at 11 times his estimated 1999 earnings of $1.40 a share, the stock, Hershey says, is undervalued. Based on a conservative estimate of its assets, Cooper is worth 21 a share and more in a buyout, he adds.
Cooper derives nearly 50% of its revenues from its CooperVision unit, which produces a soft toric lens that corrects astigmatism. Cooper's other unit, CooperSurgical, makes medical devices for women's health care, including gynecological instruments. Top Cooper brass were traveling and could not be reached for comment.
Before it's here, it's on the Bloomberg Terminal.
LEARN MORE