Is The Oil Slump Really Over?
Prices are up 30% since December--and this time they could stick
by
It seemed all too familiar. Once again, the oil producers were vowing to cooperate on a plan to curb supply and boost prices. OPEC's most powerful oil producers--energy superpowers such as Saudi Arabia, Iran, and Venezuela--teamed up with non-OPEC Mexico in the Netherlands in mid-March to discuss huge cuts in output. On Mar. 12, they announced they had reached an agreement to slash daily production by more than 2 million barrels. Oil prices did not do much in response--rising 50 cents a barrel before sinking back to around $13. For oil markets, it was the equivalent of a collective yawn.
Such skepticism is understandable. After all, the Saudis, Venezuelans, and Mexicans promised to cut production in March, 1998, and again in June. Those pledges, however, did nothing to prevent the southward spiral in crude oil prices, to a yearend low of just over $10 a barrel--levels not seen since the 1970s. "Rarely do [OPEC announcements] deliver good compliance," says John L. Saucer, an oil analyst at Salomon Smith Barney in Houston.
But this time may be different. Not only are revenue-starved oil producing nations more serious, but also global demand should begin to tick upward this year at the same time that the plug is being pulled on marginal production. While that may spell the beginning of the end of the worst oil-industry recession in decades, it also certainly means that the fast-growing U.S. economy in 1999 will not enjoy the same kind of anti-inflationary lift from falling oil prices as it did last year.
Even before oil ministers secretly assembled at the residence in The Hague of the Algerian Ambassador, oil prices appeared to be ending their 13-month-long slide. Since bottoming out in December, oil prices have risen 30%.
Oil company stocks--the big market laggards of 1998--are also coming alive. And the market seems more convinced than ever that higher prices for oil and stocks will stick. "We're now saying that, among the global cyclical stocks, energy is of interest," says Abby Joseph Cohen, joint head of Goldman Sachs's investment-policy committee. "We think over the next period global supply outlook will improve."
One important factor: Asian demand is no longer falling. In 1998, collapsing economies from Malaysia to South Korea caused Asian oil consumption to shrink by an unprecedented 600,000 barrels a day, according to Washington's Petroleum Finance Corp. "This year, we're looking at either flat demand in Asia or even slightly up," says Roger Diwan, Petroleum Finance's director of global oil markets.
At the same time, rock-bottom oil prices have been limiting production of higher-cost oil outside the cartel. After years of annual increases of 1 million barrels a day or more from non-OPEC oil patches in West Africa and Latin America, wells are being shut down. This year, production could decline by as much as 500,000 barrels a day.
PROMISE KEEPERS. Oil companies are also cutting exploration budgets this year--by up to 40%. Production has already dropped in many places--reducing the number of active oil rigs around the world to the lowest level since the 1940s. These moves can't be reversed overnight. "World production capacity a year or two from now is going to be a lot less than anyone would have thought two or three years back," says Daniel Yergin, chairman of Cambridge Energy Research Associates.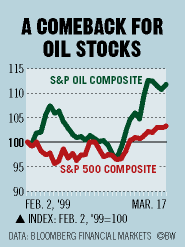 That's why OPEC promises mean more this time. Also, Saudi Arabia and Iran are on friendlier terms, leading to a more cooperative spirit. And the economic hardship caused by low prices is expected to keep perpetual quota-cheaters such as Venezuela and Nigeria in line. Perfect compliance isn't even necessary. If OPEC cuts just 1 million barrels a day, "that's enough to remove the surplus in the market by the end of the year," says Salomon's Saucer.
That doesn't mean oil prices are suddenly going to start jumping. But if OPEC can successfully rein in production, oil could rise to the high teens by yearend. That's good news indeed for the industry. But for the Cinderella economy, it could be the stroke of midnight.
Before it's here, it's on the Bloomberg Terminal.
LEARN MORE