Fujitsu: Beyond Big Iron
It aims to become a world leader in computer services
Irene M. Kunii
Naoyuki Akikusa, Fujitsu's new president, made his mark as a troubleshooter. When an earthquake devastated Fujitsu's regional office in central Kobe one January morning in 1995, Akikusa, then the manager for western Japan, quickly took charge. By the end of the first day, he had drafted plans for restoring clients' computer systems. He also located an alternate office to take over Kobe operations, long before the government organized its own disaster response.
Now, the 60-year-old Akikusa is up against a tougher challenge: to transform giant Fujitsu from a high-tech hardware department store into a nimble provider of software and services. If that means taking over customers' entire data-processing operations around the world, then so much the better. "My goal is to make Fujitsu a truly global information-technology company," says the athletic, 6-foot-tall Akikusa.
The new president has little choice. Fujitsu, like other large Japanese electronics makers, has seen its profit margins on computers, semiconductors, and telecom gear steadily decline. So Akikusa hopes to grab a share of the more profitable global services and outsourcing business from titans IBM and Electronic Data Systems Corp. (EDS). By leveraging Fujitsu's expertise in computers, communications, and the systems integration knowhow that ties it all together, he believes Fujitsu can become No. 2 or No. 3 in this business globally within three to four years.
Akikusa has pushed his global vision for most of the past decade. Under his goading, Fujitsu recently boosted to 100% its twin equity stakes in Amdahl Corp., a U.S. mainframe computer maker, and British workstation and services provider ICL PLC. But neither unit has been integrated into Fujitsu's domestic strategy or its varied thrusts into overseas telecom.
Now, all that must change. In the U.S., the walls that once divided computing, telecom, and data networking are crumbling. IBM, Hewlett-Packard, Compaq, and others already play in at least two of these spaces. Telecom giants Northern Telecom, Lucent Technologies, France's Alcatel, and Germany's Siemens have all been snapping up innovative U.S. networking companies. To realize its goals in outsourcing, "Fujitsu needs to tie all these businesses together at the highest level in the corporation," says one Fujitsu insider who declines to be identified.
TIGHT GRIP. Fujitsu has hidden assets that could serve it well in the networked age. In the late 1980s, long before voice, data, and video traffic began to merge on high-speed corporate networks in the U.S., Fujitsu laboratories pumped hundreds of millions of dollars into a high-speed multimedia transmission technology called asynchronous transfer mode, or ATM. Fujitsu's bets weren't perfect. While it viewed ATM as a telecom play, the technology took off on private data networks in the U.S., flooding coffers of small Internet startups. Still, Fujitsu has a grip on the core technology, which is quickly becoming attractive to phone companies.
Fujitsu's future in the global marketplace is still unclear, but its strategy in Japan is starting to bear fruit. The economic slump, combined with pressures to restructure, have forced Japanese companies to look to IT investment as a means of improving efficiency and cutting costs. As a result, a growing number of organizations are installing intranets--internal networks running standard Internet software--and "extranets" that extend a private corporate network to business associates over the Net. Managing all that is a huge challenge. So a growing number of Fujitsu's traditional customers--large banks and manufacturers, plus a smattering of smaller businesses--are outsourcing the business to Fujitsu.
Already Japan's largest computer maker, Fujitsu is emerging as its dominant IT provider. The services business, in particular, is booming--growing at a compounded rate of 33% in the past three years. Akikusa has upgraded software and services to a core business, and for the fiscal year ending on Mar. 31, he expects the unit to post $14 billion in sales, up from $8.2 billion in fiscal 1995. All told, computers, software, and services will climb to $31.2 billion, up 12.6% from last year (table).
INTO THE RED. Japanese investors have noticed. Despite the slump on the Tokyo Stock Exchange, Fujitsu's share price is holding up at about $13, while such competitors as Hitachi Ltd. and Mitsubishi Electric Corp. have been beaten down. Unlike Fujitsu, these rivals are carrying sluggish heavy machinery and consumer electronics divisions, and have only made the motions of restructuring. Hitachi expects to sink $3.3 billion into the red this fiscal year. "Large Japanese companies have a hard time changing directions," observes analyst Naoki Sato of HSBC Securities in Tokyo. "This is why Fujitsu looks so promising, compared with Hitachi and Mitsubishi Electric."
Akikusa knows how to take action. Two months after becoming president, he took an ax to the company's troubled semiconductor operation. Not only was it devouring capital--about $2.3 billion in the past two years--it also was losing money because of the fall in computer chip prices. Akikusa pondered for about two weeks, then shuttered Fujitsu's chip operations in Britain and wrote off $480 million. He also shut older chip plants in Japan and downgraded chip operations to a side business. To meet its own needs, Fujitsu now plans to purchase more memory chips from Taiwan. "We don't see any profits in such chips in the long term," he says.
Outsourcing has long been a mission with Akikusa. The son of a former president of Nippon Telegraph & Telephone Corp., the country's phone goliath, he majored in political science in college but mastered systems engineering at Fujitsu. Never shy, he shocked colleagues in the early 1990s by proposing that Fujitsu start giving away hardware so it could charge for software and services.
He'll need that kind of gumption as he builds up Fujitsu's business overseas, where it trails the leaders. The annual worldwide market for computer services and consulting is worth about $300 billion, says Dataquest Inc. principal analyst Eric Rocco. It's growing at a healthy 14% clip. But the market is fragmented: The biggest player, IBM, holds just a 10% share. Amdahl, though growing quickly, is barely on the radar.
Fujitsu's ICL unit is in better shape, in part because it is less exposed to the mainframe market. But to date, there is little collaboration between the two subsidiaries. John R. Harris, corporate vice-president at EDS, believes Fujitsu lacks the resources to compete in a market where outsourcing is already highly developed. "If I were Fujitsu," he says, "I'd be reluctant to attack companies like EDS and IBM, which offer a broad array of services." Alfred J. Amoroso, IBM's general manager for services in Asia, agrees: "This is a hard business to jump into."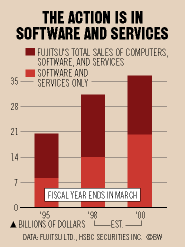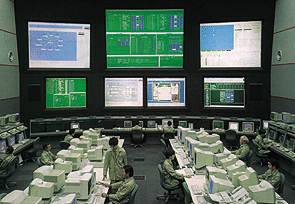 What Fujitsu has in abundance is human resources. All told, the parent company and its 500-plus subsidiaries have an army of 30,000 engineers and consultants in Japan and an additional 22,000 overseas. It also can tap into databases built by subsidiaries, such as DMR Consulting Group Inc., a U.S.-based outsourcing company that generates about $1 billion in annual sales. With its experience in the financial and telecom sectors, as well as E-commerce, DMR is ready to assist Fujitsu as the Japanese market opens up. "We are something that Fujitsu can use to create a window of opportunity in Japan," says DMR President Michael Poehner.
Even in Japan, Akikusa must make haste before home-grown competition kicks in. Hitachi, Japan's largest electronics maker, recently announced its own restructuring plan, with the emphasis squarely on software and services. NEC Corp., a leading chip and computer maker, has much the same strategy. Even as Fujitsu paces its stride against international rivals, it will have to stay vigilant and keep an eye on the domestic track.
Before it's here, it's on the Bloomberg Terminal.
LEARN MORE