Chile: Goodbye Copper, Hello Recession
Chile, a star Latin American economy, is entering its first recession since the early 1980s. Real gross domestic product fell 2.8% in the last quarter of 1998 and will probably shrink an additional 2.8% in the first quarter. The downturn should be mild. But the economy will likely expand by only 1% in 1999, after growing an average 6.8% over the past five years.
The culprit is copper. Last year, the metal accounted for nearly 40% of Chile's $14 billion in exports. But the global downturn has reduced demand for all commodities, and copper prices have hit a 12-year low (chart). As a result, government revenues from copper plunged to $450 million last year, from $1.7 billion in 1997.
Chile's domestic economy is feeling the impact of copper's slide. Unemployment has hit a 3 1/2-year high of 7.5%, and industrial production fell 6.9% in January from a year ago. To combat joblessness, President Eduardo Frei announced plans on Mar. 11 to award public infrastructure projects to private businesses, create a fund to finance community-development ventures, and increase loan subsidies for small and midsize companies.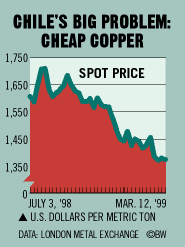 Monetary policymakers have also tried to spark up the $80 billion economy. The Central Bank has cut interest rates six times since October, reducing the key interbank lending rate from 14% to 7%. Most analysts expect additional cuts as the December presidential election approaches. That could weaken the peso, which has fallen about 5% against the U.S. dollar so far this year. But the peso's decline is not a major worry, since the currency is considered to be overvalued and inflation is below 4%.
Despite the downturn, Chile is probably sound enough to avoid a major fallout from the turmoil in nearby Brazil, which buys just 5% of Chile's exports. Moreover, the current-account deficit, about 6.2% of GDP last year, and the $2.5 billion trade deficit will likely improve in 1999. Until world economic growth picks up, however, copper prices will remain a drag on Chile's outlook.
Before it's here, it's on the Bloomberg Terminal.
LEARN MORE