As Big Farmers Long For Freedom...Little Ones Fight To Survive
Philippe de Guillebon climbs up high into his giant New Holland combine, punches commands into the computerized controls, and sets the 270-horsepower engine roaring. The stocky 53-year-old runs a 300-hectare wheat farm in northern France, just outside the village of Carnieres. It yields three times more per hectare than an average farm in Kansas. "I can compete against the Americans without subsidies," he says with pride.
Times are changing down on the farm in France, which has the most farmers in the European Union. As usual, farmers have mounted noisy protests, even blocking roads in Brussels with their tractors, in a bid to stop EU plans to cut their state support. But a growing number of efficient, modern farmers such as de Guillebon are contemplating the unthinkable: accepting an aid rollback. "A gap is opening between those farmers who want to take risks and be entrepreneurs and the old generation who don't want to change," says Loek Boonekamp, an agriculture expert at the Organization for Economic Cooperation & Development.
This gap holds important consequences for all of Europe. Farm subsidies currently cost the EU a hefty $48 billion a year. But at a special summit in Berlin on Mar. 24-25, European heads of state are expected to cut that to $45 billion, freezing direct payments and lowering guaranteed prices for beef and cereals. The reform will allow Europe and the U.S. to open trade negotiations by the end of the year on eliminating agricultural price supports on both continents.
The soil around Carnieres is some of the richest in Europe. Coal mines, steel mills, and textile factories lie shuttered all over northern France, and unemployment runs at more than 15%, but de Guillebon last year grossed a more-than-respectable $150,000. He drives a late-model green Audi with leather seats and lives in an elegant, antique-filled 16th century chateau.
Under the postwar Common Agricultural Policy, de Guillebon and all other European farmers hauled in high prices for anything they could produce. The more grain they harvested or the more animals they raised, the more money they received. Since it didn't matter if no one wanted to buy the excess food, this policy generated mountains of wheat and lakes of milk.
FREE LUNCH. In 1992, Brussels began to reform. It cut guaranteed prices and forced farmers to leave some of their land fallow. Generous direct aid protected incomes, but farmers felt they were becoming welfare recipients. "I don't like getting paid for not growing anything," complains de Guillebon, who last year got $50,000 in such subsidies.
Worse, the aid comes with curbs on how much farmers can export and how much land they can buy. Wheat farms in the U.S. Midwest are often 10 times the size of French ones. Many farmers want to expand to gain economies of scale, but the reform package doesn't let them. "The bureaucrats don't want us to become real businessmen," complains Jean-Fred Faveau, the local leader of a farmers' group. "They want to keep us in a sort of zoo."
Not all farmers here believe they can compete in a free-market world. Michel Patoux farms 30 hectares of wheat and raises 18 cows. Last year, he earned a mere $30,000. He lives with his father in a simple, sad-looking red brick house, and although his is the fifth generation to farm this land, he feels lucky he hasn't had children: "This farm isn't worth enough to pass on to anyone."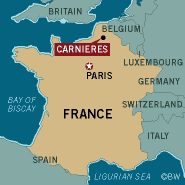 "Our big farmers have prospered," says Andre Dromard, Carnieres' mayor. "But our small farmers are struggling." A generation ago, Carnieres counted 25 farmers. Today, it has only seven. Overall, Europe's farm population is falling fast--from about 16% of the total population in 1960 to less than 5% today.
Most of the smaller farmers eventually will retire, allowing the larger ones more freedom to expand. And de Guillebon is getting ready. He recently started using the Internet to track world wheat prices. Instead of selling his grain to the local cooperative, he now prefers to sell direct to wholesalers. "I get a better price," he says. Without the cushion provided by Brussels, more farmers will have to follow his lead.
Before it's here, it's on the Bloomberg Terminal.
LEARN MORE