A Buy Rating On This Bond Rater?
by
Duff & Phelps Credit Rating (DCR) may be on the block. That's the buzz in bond-rating circles.
Credit-rating agencies are strictly regulated by the Securities & Exchange Commission. Of such outfits, Duff is the only pure play. Compared with the biggies in the business, however, it is pint-size, with just one-sixth the revenues of Moody's Investors Service or Standard & Poor's, a unit of The McGraw-Hill Companies (BUSINESS WEEK's corporate parent). To be a force in the business, Duff needs more size, say industry watchers.
Whispers are that Duff has held informal talks with at least one of the following two companies: Thomson BankWatch, a unit of Toronto publishing giant Thomson, and A.M. Best, which rates only the claims-paying ability of insurance companies. Several weeks ago, A.M. Best announced it would start rating insurance companies' corporate debt as well. So it may be seeking that capability from Duff. Last year, there was talk that German publisher Bertelsmann tried to cut a deal with Duff.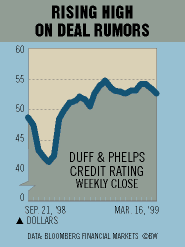 It takes years to develop a credit-rating franchise. One reason: It is difficult to get an SEC designation to operate a rating agency in the U.S. The easy route for a foreign company is to acquire a firm already in the business. Fitch Investors Service was acquired in 1997 by France's Fimalac, principally for its credit-rating license. Duff has tried to create a global presence, and it now has offices in 32 countries--and has active ratings on debt issues in 50 countries.
Duff shares have been on the rise, up from 40 1/2 in mid-October to 52 5/8 on Mar. 16. One analyst expects Duff to earn $3.50 a share this year and $4.14 in 2000, compared with 1998's $3.45. Duff didn't comment, but Thomson BankWatch President Greg Root says the company is "exploring all opportunities in the business that are best for us." A.M. Best President Arthur Snyder didn't return calls.
Before it's here, it's on the Bloomberg Terminal.
LEARN MORE