Tough Love For Central Europe's Stepchild
Will Premier Dzurinda's austerity plan stir unrest in Slovakia?
James Drake
Mikulas Dzurinda, an avid bicyclist and veteran of 15 marathons, knows when to push hard. Now, five months into his job as Prime Minister of Slovakia, the 44-year-old Christian Democrat is going all out to get his troubled country on a winning course. Politically, he's aiming to end cronyism by such moves as stripping government ministers of immunity from prosecution for alleged crimes. Economically, he's pursuing growth and stability by trimming government spending while wooing Western industrialists. One move he's likely to make: devaluing the Slovak currency 10% to 12% to boost exports.
But Dzurinda's get-tough approach faces a hard run. Social unrest is possible amid expectations that he'll raise prices nearer to market levels--a hike of 30%--on state-owned apartments, energy, and transport, even while joblessness tops 13.5%. Already, unions in the steel center of Kosice have hinted at strikes if proposed austerity moves such as a public-sector wage freeze stick. "We are not happy," says Ondrej Tkac, a union leader at a coal mine that provides fuel for Kosice's VSZ steelworks. "Our brothers at VSZ aren't happy."
Yet Dzurinda has little choice. His predecessor, communist-era apparatchik Vladimir Meciar, was ousted by voters upset at Slovakia's economic and political mire. Meciar had ramped up production at state-owned companies, for example, even as Slovak factory products found few buyers. To shore up state enterprises and entice foreigners with cheap loans, his government borrowed recklessly from international bond markets. Such steps goosed growth to 5% last year, but exports slumped, and the current-account deficit climbed to alarming levels. Now, with the false economy undone, gains may shrink below 2% this year. "Meciar was sacrificing long-term stability for short-term gains," says Dzurinda. "We hope people remember this as we try to put things right."
This nation of 5 million has been the region's unloved stepchild ever since Czechoslovakia broke up in 1993, leaving Slovakia with little but arms plants and run-down chemical and steel factories. While Westerners sank $26 billion into Poland, $22 billion into Hungary, and $8 billion into the Czech Republic from 1990 to last fall, they've anted up just $1.8 billion for Slovakia.
"BLACK HOLE." The chief reason for this disparity, says London School of Economics political sociologist Abby Innes, is "political unpredictability." Because of Slovakia's corruption and harassment of Hungarians and gypsies, the European Union and NATO two years ago turned down the country's bid for fast-track admission. Meciar earned global condemnation by granting immunity to a government minister suspected in the kidnapping and beating of Michal Kovac Jr., son of the former President. U.S. Secretary of State Madeleine Albright went so far as to call Slovakia a "black hole at the center of Europe."
Dzurinda's pro-minority moves, along with his austerity plan and his currency devaluation, could help mend Slovakia's image enough to revive its bid for the EU. Meantime, the consensus-minded leader, a transport engineer by training, wants to lure job-creating Western investment. The government on Mar. 9 announced an incentive package with generous tax holidays for outside investors. Dzurinda will welcome foreign investment in the state's phone company and banks.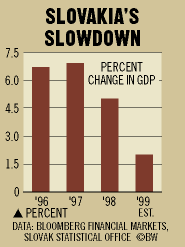 The planned reforms impress some executives. "This country is still a well-kept secret," says Rick Wiley, chief financial officer of Samsonite Corp., which makes luggage in Samorin, a town on the Danube. "They've got cheap, skilled labor, they're next door to some big markets, and so far, we think the political climate is looking extremely friendly." Slovakia is also looking good to Volkswagen, which has produced Golf model cars and parts in a Bratislava factory for six years. The promise of reforms is key to VW's plans to open a new plant, doubling its car production there to 250,000 yearly by 2000. Such investment will determine whether Dzurinda and his country end up run into the ground or carrying the winner's medal.
Before it's here, it's on the Bloomberg Terminal.
LEARN MORE